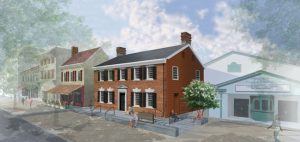 International firm MBB Architects has completed the renovation and conversion of the historic Bainbridge House into art galleries and a community center called Art@Bainbridge at Princeton University, New Jersey.
The building was originally designed in 1766. The newly opened public galleries now serve to showcase work by contemporary artists in an intimate, domestic setting. The venue also provides space for the community and museum to facilitate meetings, programs, and events.
MBB's architects repurposed the three-story, Georgian-style farm home to offer flexible public gathering and event areas, exhibition rooms, a gift shop, and an information area. The second and third floors hold private offices for the museum's education department.
"A main goal for the MBB team—besides maintaining the historic architectural integrity of one of the area's best-preserved examples of Georgian architecture—was to sensitively make the building more welcoming to the community and fully accessible using minimalist modern interventions that defer to the historic fabric," said Jeffrey Murphy, FAIA, LEED AP, MBB partner.
The scope of work included restoring the building's exterior by cleaning, repairing, and replacing in-kind the brickwork, windows, shutters, and roofing.
Another major objective of the adaptive reuse for the new venue has been to create a more sustainable building that incorporates a tighter, high-performance building envelope. Outmoded infrastructure, including mechanical, electrical, plumbing, fire protection, and security systems, were replaced with new and sustainable, state-of-the-art systems and components that the firm seamlessly integrated into the building's historic fabric. Almost the entire original 18th-century structure remains intact, including historic wall paneling, fireplace mantles, doors, and a three-story staircase that MBB and the construction team restored and preserved.
"As a leadership museum in a unique academic context, we are committed to historic preservation as an essential part of the texture of our community, and felt particularly strongly that historic Bainbridge House should be returned to public use," said James Steward, museum director. "We are delighted to have worked with MBB to assure that as much of the original fabric as possible could be preserved, and to make visible the feel of the house's history, even while updating its systems to allow it to function as a vital gallery space."