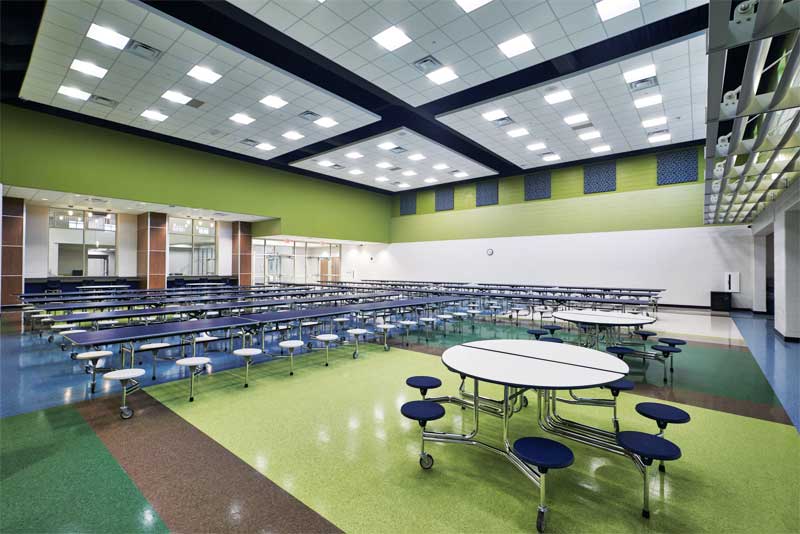 by Robert (Bob) Marshall
As the architecture and design community takes a more holistic approach to occupant health, practitioners are increasingly focusing on creating acoustically sound spaces. The increased awareness of the importance of acoustics as well as a growing array of product options have made ceiling panel specification more complex, but also more significant.
For a variety of reasons, including overall acoustic performance, widespread availability, ease of installation and affordability, traditional suspended ceilings are an effective solution for many types of spaces.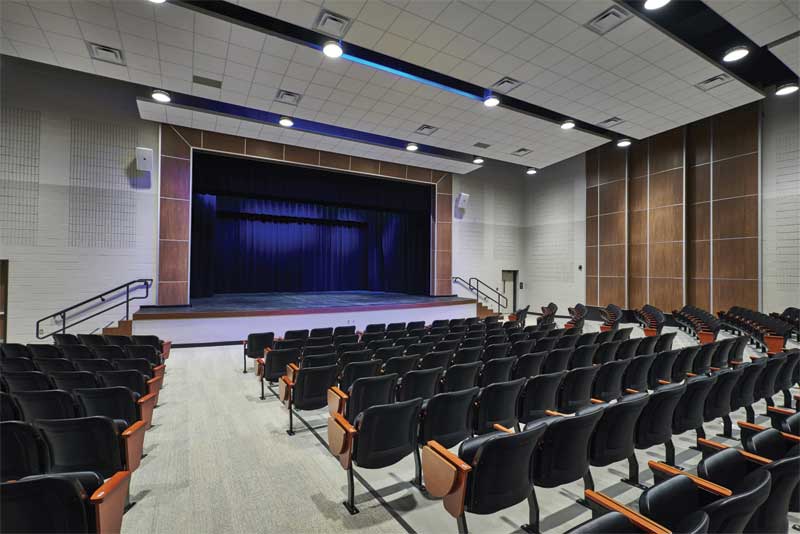 Today's ceiling panel choices include a wide range of acoustic performance levels, visuals, and price-points, from basic, budget-friendly fissured mineral fiber panels with 0.55 noise reduction coefficient (NRC) and 33 ceiling attenuation class (CAC) to smooth, white fiberglass panels with 0.95 NRC and 30 CAC, which can cost as much as 10 times more. The choice of ceiling panel can have a dramatic impact on the design of a space and the experience of its occupants.
Specifiers are rarely dealing with a single source or type of sound throughout a facility, nor does every space have the same acoustical goals. An area in which speech privacy is the most important consideration will require a different solution than one in which speech clarity is the highest priority. Is there background noise from mechanical systems to consider? Will sound come from everywhere in the space (e.g. cafeteria) or from one specific location (e.g. the front of a lecture hall)? The key is to understand the basics of sound, and to address the acoustic needs of each space individually while keeping in mind how the aesthetic of individual spaces relates to the project as a whole.
It is tempting to turn to a single-product solution in a straightforward, good-better-best hierarchy, but such general acoustical performance classifications can oversimplify the issue. While they may require less effort to specify, the odds are high either the acoustic performance, the overall aesthetic, or the budget will be compromised by limiting the spec to a single product. For example, in most open office situations, there is little reason to invest in a panel with both high NRC and high CAC. Sound absorption is key for open spaces, and unless there are unusual sources of sound (e.g. mechanical noise), sound-blocking capability is typically not necessary in these areas. A panel combining both high absorption and high sound blocking will do nothing to improve the acoustics of the space, but will potentially double the cost of the ceiling. The smarter approach is to target the right products with the right level of sound absorption and/or sound blocking to the needs of each space. Fortunately, there are product collections available that enable designers to target both performance and budget while maintaining a consistent visual throughout a facility.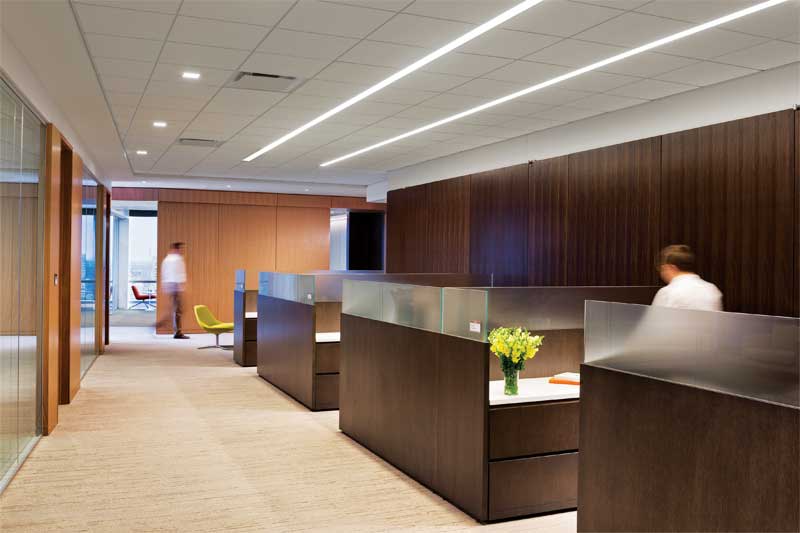 Avoid the single-product compromise
Consider the challenge encountered by interior designers from Jacobs working on the Saint-Gobain North American Headquarters in Malvern, Pennsylvania. The original plan for the 11,055 m2 (119,000 sf) of open-office space called for smooth, high-NRC fiberglass panels to be installed in a floating island configuration over the workspaces, forming a dramatic contrast with the black-painted plenum and exposed ductwork in the corridors and transition areas. If the only noise source in the space had been employee speech, this plan would have been ideal. Unfortunately, there were other sound sources to consider, and while fiberglass provides excellent sound absorption for human speech, it would do little to block the low-frequency, mechanical noise produced by the HVAC system.
In a situation like this, there are several single-product options including:
choose a panel based on the biggest concern: either a high-absorbing fiberglass panel for the speech noise or a high-blocking mineral fiber panel for the mechanical noise;
compromise with a mineral fiber panel possessing moderate blocking and absorbing capabilities; or
install a premium composite panel exceling at both blocking and absorbing throughout the entire space.
Another alternative is a multiproduct solution leveraging targeted acoustic performance.
In the end, fiberglass panels with 0.95 NRC were used for most of the ceiling to absorb background speech noise in the open office. Directly below the heat pumps, a premium composite ceiling panel performed a dual acoustic function: the fiberglass face absorbs sound, while a mineral fiber backer blocks the mechanical noise from above. Most importantly from an aesthetic perspective, the difference in tiles is invisible to the occupant. Both tiles share the same clean, minimally textured surface and edge detail for a perfect match. The look also matches the mineral fiber tiles chosen for the smaller conference and meeting rooms.
Instead of an open plenum painted black, black fiberglass panels were installed around the perimeter to create the visual effect of free-floating islands while providing additional sound absorption.
MATERIAL DIFFERENCES
With noise reduction coefficient (NRC) ranging from 0.80 to 1 fiberglass is more effective than mineral fiber at quieting a room, as it performs well in both high and low frequencies. Mineral fiber tends to excel in high frequencies but loses absorption in lower frequencies. However, the low density of fiberglass ceiling panels, which makes them resistant to moisture and sagging, limits their ability to contain sound. Consequently, fiberglass ceiling panels typically have a very high NRC, but a relatively inconsequential CAC.

Mineral fiber ceiling panels are denser and heavier than those made from fiberglass. Their higher level of density makes them reasonably effective sound attenuators (i.e. they impede the transmission of sound from room to room). With good sound attenuation and average sound absorption, mineral fiber ceiling panels tend to have a higher CAC and lower NRC—typically 0.50 to 0.70 NRC—than their fiberglass counterparts.

These are basic characteristics, but not inviolable rules. As manufacturing methods and technologies evolve, major ceiling brands have developed mineral fiber panels with NRC as high as 0.75 and 0.80, as well as composite panels combining a highly absorbent fiberglass face with a sound-blocking mineral fiber backing for premium acoustic performance of 0.90 NRC and CAC up to 42.