ACOUSTIC PANEL RATINGS: WHAT ARE NRC AND CAC?
The most common piece of data used to evaluate acoustic panels is the noise reduction coefficient (NRC). To appreciate the value—and limits—of NRC ratings, a little more background is needed on the subject of frequency.

Frequency is the measurement of how often a wave passes a fixed point in one second. Measured in hertz (Hz), it dictates the pitch of the sound and its audibility to the human ear. High frequency sounds are high pitched. Low-frequency sounds are low pitched. The human voice has a general range between 80 to 240 Hz for men and 140 to 500 Hz for women. For comparison, a piano produces sounds between 27.5 and 4186 Hz. The human ear can distinguish sounds between 20 and 20,000 Hz.

The NRC of a product is determined by averaging how much sound it absorbs at four frequencies: 250, 500, 1000, and 2000 Hz. This average can be represented simplistically as a decimal between 0.00 (no absorption at all) and 1.00 (complete absorption), rounded to the nearest 0.05. For general purpose interior acoustic decisions, this average is an acceptable measurement.

Another key piece of information for evaluating ceiling panels' acoustic performance is ceiling attenuation class (CAC). This is the measurement of the ceiling's ability to inhibit sound transmission between two rooms separated by a ceiling-height partition (per ASTM E1414, Standard Test Method for Airborne Sound Attenuation Between Rooms Sharing a Common Ceiling Plenum). Ceilings with a 30 CAC or less do a poor job and should rarely be considered for this type of application. However, those offering a 40 CAC or more can actually be considered as a substitute for a full-height partition between rooms.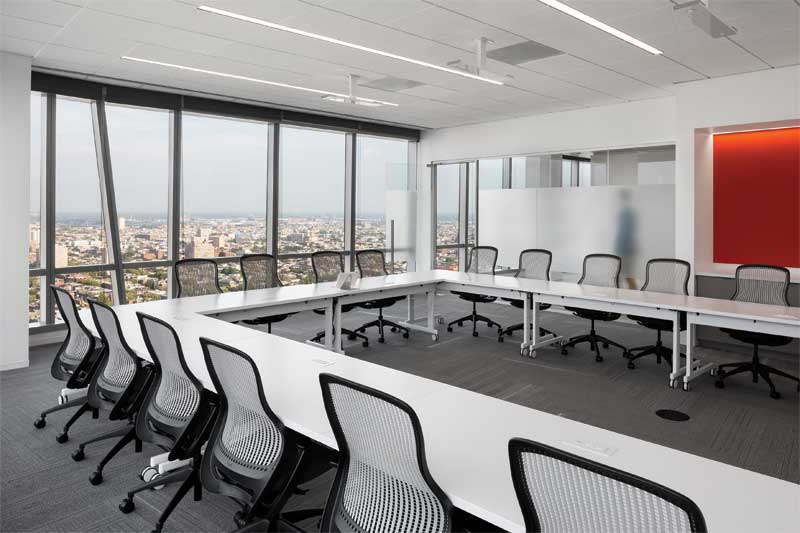 Meeting multiple needs with one consistent look
The design team from Granum A/I, the interior architects on the 49-story FMC Tower at Cira Centre South in Philadelphia, encountered a similar challenge when they helped FMC Corporation transition from a traditional, closed-office environment to an open, collaborative workspace with floor-to-ceiling windows for daylight and inspiring views.
The aesthetic goal was to maintain a smooth, consistent ceiling visual throughout the spaces.
For all open-office spaces, breakout rooms, quiet areas, and corridors, designers specified a smooth fiberglass panel with 0.95 NRC to achieve maximum sound absorption.
Enclosed huddle and conference rooms, and private offices had a different challenge: containing sound and maintaining speech clarity. For these spaces, a mineral fiber panel with 0.70 NRC and 33 CAC struck the right balance between absorption and blocking. A version of the same panel with enhanced cleanability, stain resistance, and water repellency was chosen for the kitchen areas.
Sound containment and speech privacy were the top priority for the executive offices, which used a premium composite panel with 0.90 NRC and 42 CAC.
All four products featured a consistent clean, white surface appearance to reflect the abundant daylight throughout the offices.
Challenges of educational facilities
The relative importance of acoustics, aesthetics, and budget changes when one is designing public educational facilities rather than corporate offices. When Goodwin Mills Cawood (GMC) took on the challenge of designing the Mill Creek campus as the prototype for future Williamson County, Tennessee, schools, the first priority for ceiling specification was meeting the Leadership in Energy and Environmental Design (LEED) for Schools prerequisite of 0.70 NRC or higher. Cost control was the next important project goal. And of course, they hoped to meet both these goals without sacrificing the overall visual appeal of Mill Creek Elementary and Middle Schools.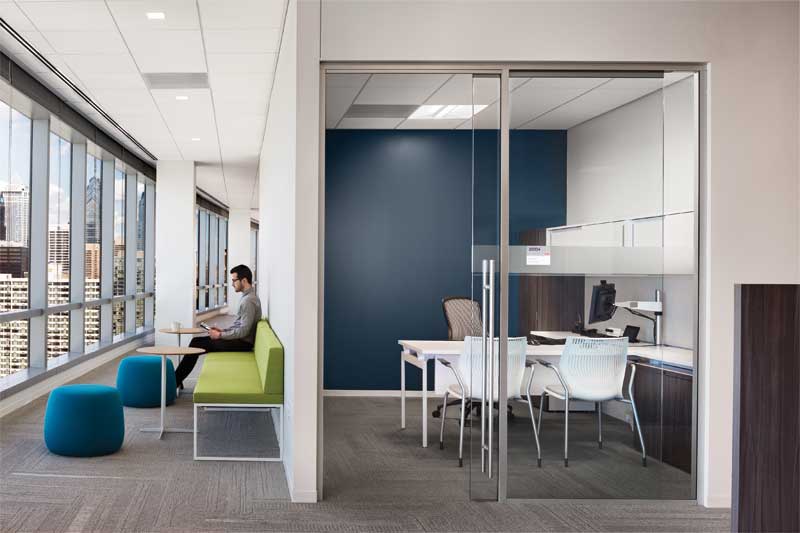 With the assistance of Acousti Engineering, the acoustical contractor on the project, GMC specified three types of acoustic panels for the buildings. To keep costs under control, they decided on an affordable but high-performing fine fissured mineral fiber panel with a 0.70 NRC and 35 CAC for classrooms, administrative offices, and conference rooms. The combination of superior sound absorption and sound blocking created the right balance for areas where speech clarity and privacy were both important.
For open areas with more ambient noise, including the media center and cafeteria, a high-performance fiberglass panel with 0.95 NRC and a smooth, bright white surface was selected. For the auditorium and music room, they invested in a premium composite panel with 0.90 NRC and 42 CAC to both contain sound and decrease reverberation for optimum sound quality. This panel shares the same smooth, clean surface visual as the panel chosen for the media center and cafeteria, keeping the more sophisticated look consistent across all the areas that would be more visible to parents, visitors and the community at large.
Conclusion
There is rarely a single product that meets the acoustic goals throughout a building. The smart approach for designers and specifiers is to target the right products with the right level of sound absorption and/or sound blocking to the needs of each space. This can be achieved while maintaining a consistent visual aesthetic.
Robert Marshall is the senior technical manager for CertainTeed Ceilings and a lifelong participant in the commercial ceiling industry. The product of one of the world's first acoustic ceiling contracting businesses (a company founded by his family in 1927), he has more than 35 years of experience in contracting, distribution, and manufacturing of such assemblies. He can be reached at robert.l.marshall@saint-gobain.com.