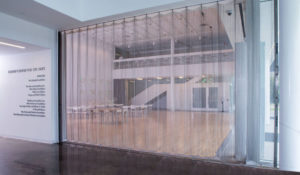 The open, experimental themes of Rice University's new Central Gallery at the Moody Center for the Arts in Houston, Texas, are supported by an innovative metal fabric installation. Allowing artistic works in all disciplines to be displayed, moved, and organized, the curtains border the gallery and offer both unique sightlines and visual protection.
Designed by Michael Maltzan Architecture, with Linbeck Construction as the general contractor, the 4645-m2 (50,000-sf) space opened in February, and now houses artwork as well as events, offering a platform for interdisciplinary art, new and innovative teaching methods, and creative partnerships.
"So much of what I was trying to do in this building was to not design a specific standalone space, but to make spaces that would feel very connected to each other, where you would get a view of something you wouldn't normally get a view of," said Michael Maltzan, design principal.
Maltzan states the space accomplishes the design goal of visual openness, allowing occupants to see and connect to whatever activities may be occurring in the center's gallery, other exhibition areas, and production and industrial spaces. This is largely facilitated by the 50 percent open area of the mesh curtains.
In keeping with the flexibility integral to the center's mission, the curtains are maneuverable. Via top and bottom hooks, they can be attached to a system allowing them to roll along a track, altering the space according to its use. A button-push system can also be used to pivot the curtains at the rods, making them collapsible and foldable. When fully extended, they can also be locked.
Similar mesh curtain installations have been employed at:
The $30-million project at Rice University also features a sprung wood floor to facilitate social events.
"[This] is where art exhibition and education intersects and fosters collaborations across multiple disciplines and across Houston, the state, and the nation," said Ross Moody, chair of the Moody Foundation, at the building's dedication.