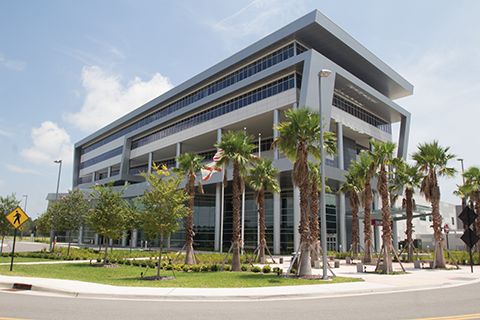 by Patrick Condon, PhD
There are many different metal composite panel (MCP) assemblies with varying strengths. Traditionally, these claddings are simply fastened without insulation to the structural wall, through membrane water-resistive barriers (WRBs) and gypsum sheathing. However, some proprietary MCPs are fastened through continuous insulation (ci) to the structural wall. What advantages can this provide, not only with respect to thermal performance, but also durability and life safety?
Structural walls are sometimes concrete, but more often steel studs. These steel studs normally have batt insulation (i.e. 'batt' to also designate 'blanket'), but in 2011, the American Society of Heating, Refrigeration and Air-Conditioning Engineers (ASHRAE) demonstrated thermal bridging reduces the R-value of batt insulation by 40 to 60 percent. For example, R-19 batt insulation in steel studs actually has an effective wall thermal value between R-8 and R-11. For ci with R-19, on the other hand, the wall's value remains R-19.
ASHRAE RP 1365, Building Materials and Building Envelope Performance, demonstrates if ci is installed with fasteners, then the 'assembly R value' and 'nominal R value' are the same. Z-clips, used for most ci assemblies, are also thermal bridges that reduce the assembly R-value of the wall. Therefore, ASHRAE 90.1, Energy Standard for Buildings Except Low-Rise Residential Buildings, defines ci as "insulation that is continuous across all structural members without thermal bridges other than fasteners (not Z-clips) and service openings."
For at least one proprietary assembly, installing ci on the exterior of the steel studs with fasteners rather than Z-clips, followed by MCPs, eliminates the need for exterior gypsum, membrane, impact substrates (e.g. plywood), and possibly batt insulation. This works in both rainscreen and wet-sealed configurations.
Understanding traditional MCPs
Traditional MCPs are described in the building code as external wall covering systems, fabricated with metal composite material (MCM)—in other words, a factory-manufactured panel consisting of metal skins bonded to both faces of a plastic core. The metal skins are typically 0.5-mm (0.02-in.) aluminum and the plastic core is either polyethylene (PE) or fire retardant (FR).
Often installed next to unitized curtain walls, some MCPs have been certified under Florida Building Code (FBC). In the rainscreen configuration, water is allowed to pass the exterior panels, but not the membrane. Therefore, should there be a water leak, there may be questions as to whether this problem originated with the membrane or the panel installation. Typically, there is finger-pointing prior to a forensic investigation. Having the membrane on gypsum is also the prime defense against air leaks, required by the 2010 FBC to be less than 1.5 L/(s·m2) @ 75 Pa (0.3 cfm/sf @ 1.57 lb)—
a standard less severe than the Air Barrier Association of America (ABAA), discussed later in this article.
There is also the matter of traditional composite panels' ability to resist impacts. Surprisingly, there is a loophole in the non-HVHZ (i.e. high-velocity hurricane zone) section of FBC that requires glazed openings to be impact-resistant, without demanding the same for adjacent wall claddings.
In 1609.1.2 in the 2012 IBC (or Chapter 16 of the 2010 FBC), there are two ASTM standards:
ASTM E1996, Standard Specification for Performance of Exterior Windows, Curtain Walls, Doors, and Impact Protective Systems Impacted by Windborne Debris in Hurricanes; and
ASTM E1886, Standard Test Method for Performance of Exterior Windows, Curtain Walls, Doors, and Impact Protective Systems Impacted by Missile(s) and Exposed to Cyclic Pressure Differentials.
While these standards apply only to "glazed openings," architects may require a "deemed-to-comply" substrate such as plywood or steel for non-glass wall claddings to stop impacts in hurricane zones. In the case of at least one proprietary MCP, the panels have had impact resistance tested for Missiles A (a small missile impact [SMI]), and D and E (large missile impacts [LMIs]) without additional substrate.
Concerns have been raised about some metal composite assemblies not resisting high wind deflections, even though stiffeners are required by major panel manufacturers. Many MCPs are installed with 'blind' field hooks (i.e. stiffener wall hooks that may not engage), whereas in other proprietary systems, the assemblies are manufactured with system stiffeners and do not rely on those components.
The 2010 FBC and 2012 International Building Code (IBC)—Paragraphs 1407.10 and 1407.11 provide alternate conditions where MCM is permitted, generally with the FR core requirement over 12 m (40 ft). Per the 2012 IBC, even with no plastic foam insulation, NFPA 285 is also a requirement if:
the building is Type I, II, III, or IV construction; and
wall assemblies have combustible WRBs.
Therefore, when specified correctly, MCPs can be effective barriers for impact, wind, and fire at any height.