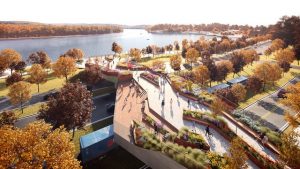 Middletown, Connecticut's new riverfront development master plan will transform an 89-ha (220-acre) stretch of land along the Connecticut River into an accessible new city district.
According to the project team, led by Cooper Robertson in conjunction with Karp Strategies and Langan, the new plan, dubbed Return to the Riverbend, offers a powerful case study for how similar cities can prioritize the creation of new regional recreational, economic, and environmental opportunities while preserving their historic legacies.
Long separated from the surrounding community by industrial uses and urban renewal projects— including a major state highway—the planned area lies less than 1.6 km (1 mi) from Wesleyan University and just south of Middletown's existing Harbor Park.
Behind the plan is an inclusive and equitable process which depended on close collaboration between the project team, local and regional officials, and members of the public and other key stakeholders.
With the master plan now complete, the implementation stage is set to begin with a proposed rezoning to facilitate development in the riverfront area.
Once completed, the district will include major open spaces, a resilient design, and a broad mix of uses—including restaurants and entertainment venues, mixed-use housing, bike and pedestrian trails, parkland, and a pedestrian bridge offering direct connections to downtown.