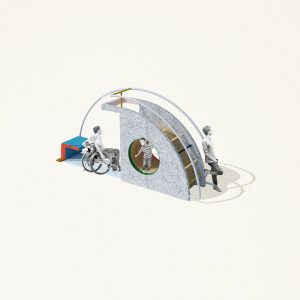 Rest and Play, by Ballman Khapalova architects in collaboration with Rayyane Tabet, has designed new street furniture for Minna Natoma Art Corridor Street in San Francisco, California.
The collection comprises pieces of furniture designed for a multi-generational demographic, the furniture will provide a place to rest for the tired, while enabling different activations by children and adults alike.
The sculptural forms will be connected by a continuous "spine" that provides a structure to the space linking the Transbay Transit Center to the Yerba Buena Gardens. The project transforms the streetscape into a promenade, where singular occurrences are woven together.
While each furniture piece is designed to accommodate specific needs and site conditions, they can be mass-produced if only one or two are chosen. The pieces follow a few simple rules and can be fabricated using straightforward methods.
The structure of the furniture can be cast in manageable segments off-site, and can then be delivered to site, fastened together, and anchored to the sidewalk. The lighter components, such as seats and color panels, will be constructed from wood and painted metal. These parts are more liable to wear and tear, so they will be detailed to provide adequate space for cleaning and replacement if necessary. The continuous spine, shown as a stainless steel pipe, consists of standard straight and curved pipe segments, with customized couplings and anchors to allow geometric flexibility. Where the spine stops, at the endpoint of each piece, it anchors into the ground to accommodate either a bollard or a bike rack.