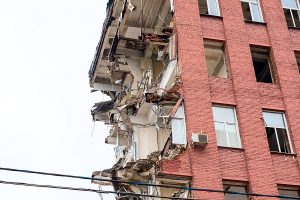 On Friday, June 2, more than 140 individuals were forced to evacuate a condominium in Minnesota due to concerns raised by a structural engineer about the building's stability. This news came merely days after the partial collapse of an apartment building in Iowa.
According to a report by The Minneapolis Star Tribune, residents of the 15-story, 94-unit Rochester Towers Condominium (207 5 Avenue SW) were asked to temporarily seek residence elsewhere to manage shoring work to the building's structure. A press release by the city of Rochester states the engineering firm responsible for the assessment of the building's structural issues has advised the city that successful completion of the shoring operations has restored stability to the building.
As a result, the city opened the closed off 2 Street SW to vehicular traffic on Saturday, June 3, and scheduled the opening of northbound lanes on 5 Avenue SW from 2 Street SW to 3 Street SW after the removal of construction materials. However, residents have still not been let into the building as a discussion on continuing repairs was scheduled for Monday, June 5, between City's Community Development Department and the engineers hired by the condo's property management company.
Less than a week ago, part of an apartment building collapsed in Davenport, Iowa. According to a report by The New York Times, following the collapse, three men had been unaccounted for; however, one body was recovered from the site later on. The same report also states city officials have found claims by a structural engineer—which the building owner had been made aware of—about the instability of the clay brick facade of the building on its west side, with the brick elements appearing to be separated from the wall underneath. Further, the report also states another wall in the building was also found to be unstable, and some residents had also registered complaints about the unsafe nature of the building.