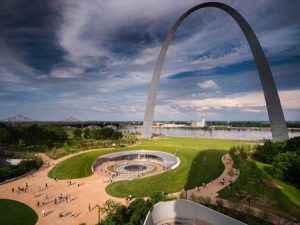 The newly renovated visitor center and museum at the Gateway Arch in Missouri have been awarded Leadership in Energy and Environmental Design (LEED) Gold certification. They have been recognized for sustainable site development, water savings, and building materials selection.
Cooper Robertson and James Carpenter Design Associates, along with Trivers Associates designed the expanded and renovated space.
"In addition to a 1-ha (3.1-acre) extensive green roof, the building features further sustainable and resilient design components such as light emitting diode (LED) lighting, high-efficiency HVAC systems, and close connections to local public transportation networks," said Scott Newman FAIA, director, Cooper Robertson. "These features bring a high level of efficiency that matches the National Park Service's ambition. The LEED Gold certification recognizes that commitment and design innovation."
Features contributing to the LEED Gold certification include:
99 percent of the roof is vegetated thereby reducing the 'Heat Island Effect' and maximizing the amount of open park space;
more than 80 percent of the construction waste and demolition debris generated by the project has been diverted from landfills or incineration facilities;
low-flow water fixtures reduce the overall project's potable water usage by more than 31 percent from the baseline;
energy cost-savings for the project is 24 percent below the baseline;
materials used throughout the project were selected based on their recycled content, are regionally extracted and manufactured (within 805 km [500 mi]), and wood products have met responsible forest management requirements; and
low-emitting materials were selected to benefit the indoor air quality (IAQ).