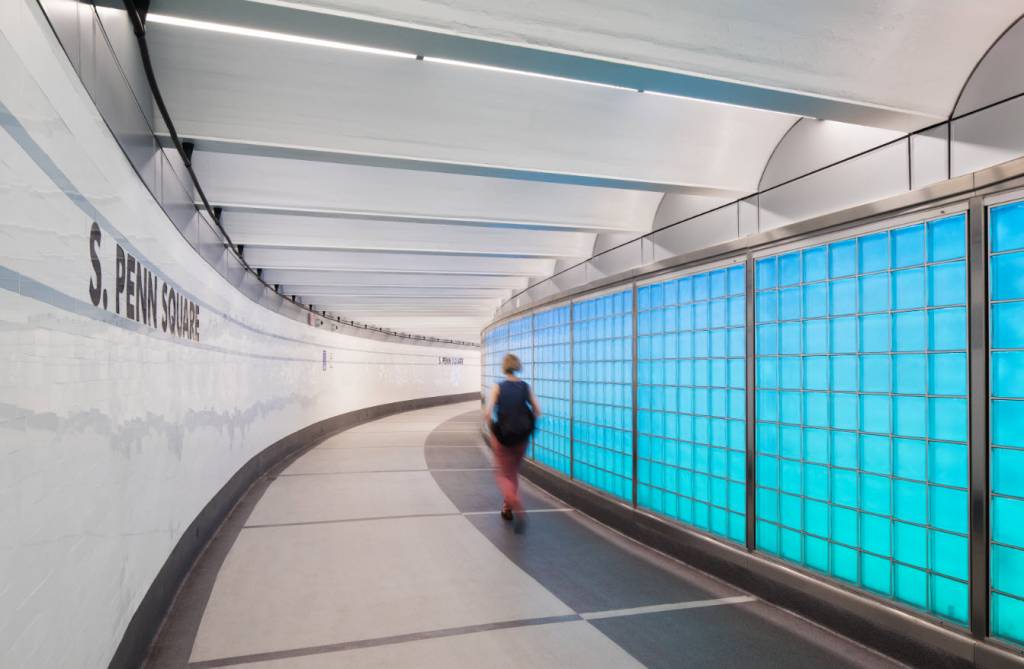 The Southeastern Pennsylvania Transportation Authority (SEPTA) has completed the first phase of the Downtown Link, its city center concourse improvement program to upgrade the underground pedestrian tunnel network.
The $59.65-million project included structural repairs, remediating leaks, replacing lighting fixtures and escalators, upgrading elevators, improving security, and enhancing architectural components.
"Originally built in the early 1900s, renovations over the years resulted in a mismatch of materials. Nothing is straight; there are no right angles," said Kevin Rockey, project leader with Sowinski Sullivan Architects. "Within the concourse, we created an episodic experience of events for the passengers and public as they moved through the paths and corridors. We envisioned active and passive walls along their journey would help in connecting them to the streets above and directing them to their location."
According to Rockey, the passive walls' simple white tile and the active wall are a series of interchangeable modules. The active wall includes a custom-engineered and fabricated glass block system that, with the static white and color changing lights, simulate movement and transparency. A minimal amount of exposed metal framing was specified for the system to maximize the glass surface area and to blend with the concourse's existing, mortared glass block walls.
Behind the glass block grid system, programmable light-emitting diodes (LEDs) generate the desired appearance and control. This also is where the conduit (previously was exposed and mounted to the corridor ceilings) was re-routed, housed, and secured.
SEPTA's Engineering, Maintenance, and Construction department also required the glass block system to comply with impact, graffiti, vibration resistance, and maintenance requirements. Additionally, the glass block wall sections would need to vary in size and placement, with some spanning full corridors and others integrating between maps and signage.
Designing a durable, vandal-proof wall system that can be easily removed for inspection and upkeep, and adheres to maintenance requirements was the project team's greatest challenge.
Engineers developed a 38.1-mm (1.5-in) glass block, joggled-set, modular system arranged in vertical panels with a narrow aluminum frame along the top and bottom. Up to seven vertical panels, each at 2 m (7 ft) tall x 200 mm (8 in) wide, are interconnected within a wall section.
"The joggle-set system allows one person to easily unlock a wall section and remove a vertical panel to gain access behind the glass block. Each vertical panel weighs approximately 32 kg (70 lb), which a qualified person can safely lift," said Smith. "Fabricated as a dry-glaze system, there also are no wet seals or caulking to mess with when either removing or reinstalling the glass block vertical panel."
The Downtown Link connects six subway stations, two regional rail systems, and provides access to many businesses, offices, historical points of interest, and other destinations.