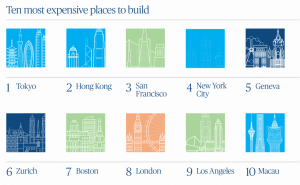 Turner & Townsend released its 2021 International Construction Market Survey (ICMS), where Tokyo topped the list of most expensive places to build for the first time, followed by Hong Kong in second place.
This major data-led study of construction costs in 90 global markets found U.S. cities high among global rankings, with San Francisco as the third most expensive city to build anywhere in the world (at an average cost of $3720 per m2) and New York in fourth place ($3511 per m2).
They follow Tokyo ($4002 per m2) and Hong Kong ($3894 per m2).
Construction costs are projected to soar in the next two years as pressure and shortage of labor and materials coincide with infrastructure spending and pandemic recovery led by Biden's administration.
The ICMS forecasts rising prices in the global construction sector will be sustained through the next two years.
Turner & Townsend's study reported the average labor costs across a cross-section of job roles stand at $109 per hour in New York and $104 in San Francisco. In Canada, labor costs were approximately half that of the most expensive U.S. cities, with Toronto at $52.9 per hour and Vancouver at $53.1 per hour.
Globally, demand for steel, softwood and copper piping have seen prices rise sharply over the year, with increases of up to 40 per cent in some international cities, the study found.