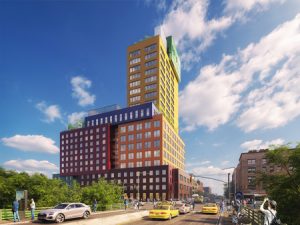 Construction has begun on Radio Tower and Hotel, a 21,800-m² (234,653-sf), mixed-use, high-rise in northern Manhattan. The 22-story building is global architecture firm MVRDV's first major project in the Unites States. It combines hotel, retail, and office functions in stacked blocks, and will reflect the character of the neighborhood, as well as set a direction for the future development of the area.
Designed for developer Youngwoo & Associates, Radio Tower & Hotel will occupy an underutilized lot at a critical intersection.
"Radio Tower & Hotel, located at the thinnest part of Manhattan Island between the Hudson and the Harlem River, is a colorful new building that will strengthen an already wonderfully mixed and vibrant neighborhood", explained Winy Maas, principal of MVRDV.
The project's main challenge is accommodating a large volume of program while remaining contextual. Radio Tower & Hotel takes the composition of a small block, pulls it apart, and then reassembles it into an asymmetrical stack of boxes with openings and roof terraces. It is designed to appear like separate buildings, each is roughly the same size as others in the neighborhood and features its own specific window pattern. The boxes also take inspiration from the vibrant colors of the shopfronts in the majority-Hispanic neighborhood, with each part of the building being finished in a different color of ceramic bricks.
Inside, the Radio Tower & Hotel provides hotel rooms, workspaces, event spaces, and retail units. The hotel will be an important hub for those traveling for conferences hosted by the Yeshiva University and the New York Presbyterian Hospital, located nearby.
MVRDV is collaborating with executive architect Stonehill & Taylor and a team of experts, including Workshop APD for interiors, Cosentini Associates for building systems, GACE for structural consultation, CANY Technical Services for façade engineering, and Filament Hospitality. The building is expected to be ready in 2021.