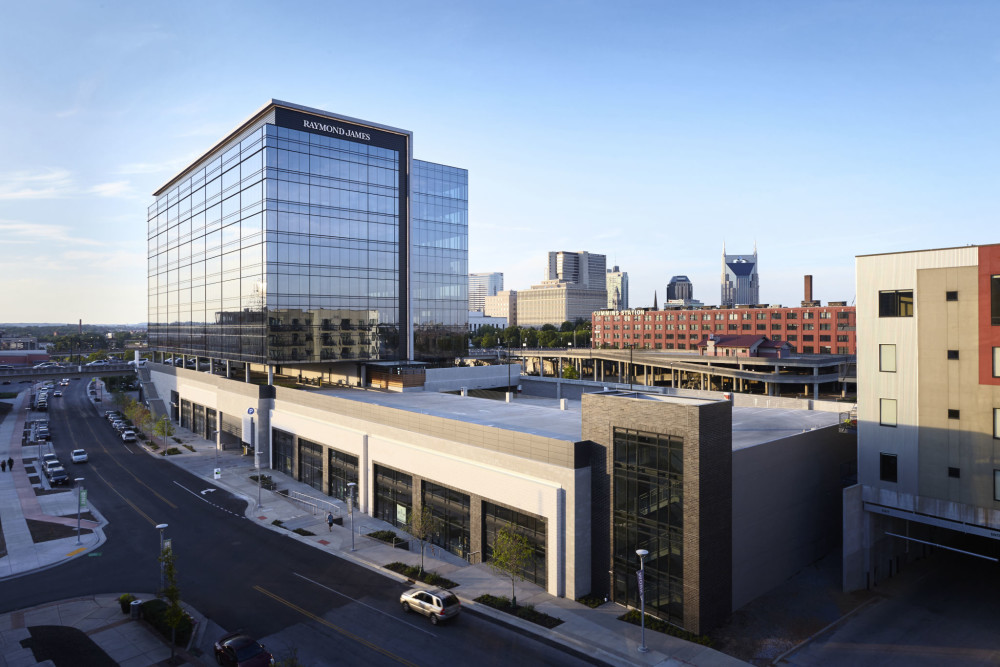 Gulch Crossing is the gateway to an emerging, vibrant, urban neighborhood in Nashville, Tennessee.
Opened in July, the eight-story, 19,045-m2 (205,000-sf) Class A office tower is situated in The Gulch—the first neighborhood in the south to be certified Silver under the U.S. Green Building Council (USGBC) rating program, Leadership in Energy and Environmental Design (LEED) for Neighborhood Development.
Given the area's focus on environmental responsibility, energy consciousness played heavily in designing Gulch Crossing. In particular, plans called for a 4320-m2 (46,500-sf) high-performance curtain wall that offered unobstructed views of downtown.
The curtain wall assembly was manufactured in ready-to-install units that span vertically from floor-to-floor. In addition, the curtain wall units were pre-glazed under controlled conditions, rather than at the jobsite, helping to achieve their intended performance, as well as saving time and labor in the field.
To ensure a compatible installation and uniform sightlines, the aluminum-framed systems used on Gulch Crossing were 184 mm (7.25 in.) deep with a 63.5-mm (2.5-in.) profile. Further enhancing the exterior appearance, the manufacturer custom-made some of the curtain wall cover plates into blade-like shapes.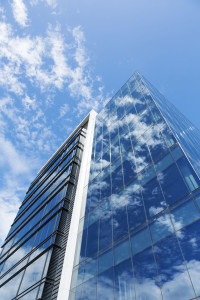 To help reduce the building's HVAC peak loads and associated energy costs, the design team specified a unitized curtain wall with a polyamide thermal barrier to provide enhanced condensation performance and low U-factor.
Gulch Crossing's curtain wall achieves National Fenestration Rating Council (NFRC) U-Factors averaging 0.37 BTU/hr-sf-F with a frame condensation resistance factor (CRF) of 78 per American Architectural Manufacturers Association (AAMA) 1503, Voluntary Test Method for Thermal Transmittance and Condensation Resistance of Windows, Doors and Glazed Wall Sections. To finish the curtain wall aluminum framing and covers, a two-coat, 70 percent polyvinylidene fluoride (PVDF) resin-based coating was employed.
Gulch Crossing brings up to 800 office workers to the Gulch area each weekday, including those at ESa, the architecture firm that designed it.
Formerly known as Earl Swensson Architects, ESa recently moved its headquarters into the top two floors of Gulch Crossing, uniting its 185 employees for the first time in 30 years on two open-office concept floors with a communicating stair.
"In designing our new office, we stepped back and evaluated our clients, staff, and project types," Todd Hilbert, principal and project director of Gulch Crossing, told Nashville's The News in July. "We placed employees in an open environment that encourages collaboration between people with the same vision, passion, values, and project responsibilities to more efficiently serve our clients."