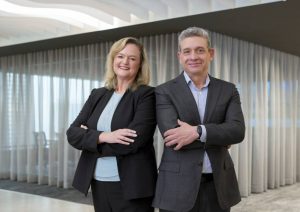 HED, a national architecture and engineering firm, has appointed Tania Van Herle, FAIA, LEED AP BD+C, and Enrique Suarez, AIA, LEED AP BD+C, as co-CEOs, successors to the retiring chairman and CEO, J. Peter Devereaux, FAIA.
Brett Paloutzian, AIA, LEED Green Associate and managing principal at HED, will be taking over from Devereaux as chairman of the board. The new co-CEO model is a manifestation of the firm's long-standing emphasis on collaboration and its commitment to diversity.
Known nationally for integrated architecture and engineering services delivered by the firm's diverse and expansive team of professionals, HED creates innovative and sustainable design solutions. As first-generation immigrant children, Van Herle and Suarez bring an expanded field of vision into a historically underrepresented industry.
Van Herle has served as chief operating officer (COO) since 2017. During her 25 years with the firm, she has participated in all aspects of the practice including project management, business development, technical leadership, operations, and corporate governance. Trained in both architecture and engineering, Van Herle earned multiple degrees at UCLA in civil engineering and architecture. As a recognized member of the American Institute of Architects College of Fellows (FAIA), she has received recognitions including the Los Angeles Business Journal's "Women Making a Difference" award. She is also a founding chair of the Women in Architecture Committee of AIA-LA and served as the president of the AIA-LA chapter in 2018. Van Herle is currently on the board of directors for the Girl Scouts of Greater Los Angeles.
Suarez has served as chief marketing officer (CMO) since 2015. He has dedicated his skills to serving a diverse array of corporate and institutional clients and has led teams focused on advancing architecture thought leadership across the nation. Suarez has won more than 20 design awards in his tenure with the firm. He is an honors graduate of the University of Kansas with a professional degree in architecture.
In the co-CEO role, Van Herle will serve as the firm's operations leader, focusing her efforts on further optimizing project delivery, driving workflow efficiencies, and facilitating more pathways for individual and team success. Suarez will oversee client strategy and external marketing efforts, shepherding in a new vision of HED as a tech-based, solutions-oriented consultancy firm. Together, they will work as a team to create a culture of innovation, belonging, and exceptional design.
"Van Herle and Suarez have my utmost confidence as co-CEOs. They are passionate, innovative leaders who will continue to drive HED's evolution and growth," says Peter Devereaux. "I believe that together, they will deliver on the firm's promise to make a positive impact for our team members, clients, and communities."