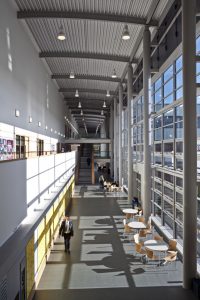 Ventilation—the process of supplying and removing air through an indoor space—can be accomplished either naturally or mechanically. While at home, the principles of natural ventilation are typically applied by simply opening the windows to let in fresh air and cool breezes. Mechanical ventilation is controlled by adjusting the thermostat to provide heat or air-conditioning to meet a required indoor temperature.
However, it is rare to find a commercial building with operable windows for natural ventilation, so there is usually little control over the climate in work environments. Most workers will either adapt to the conditions or complain to someone who has control. Typically, the only course of action is to make a thermostat adjustment.
Igloos, teepees, Roman atria, and Persian wind-catchers are all past examples of how the natural flow of air was harnessed for indoor climate control or to simply exhaust smoke and fumes.
Today, natural ventilation is making a strong comeback in commercial buildings. Driven by factors such as high energy costs, unhealthy indoor environments, and the need to protect the ecosystem, natural ventilation is becoming an increasingly popular method to manage indoor environments.
Part of the newest in a series of free, downloadable e-books, an article from the pages of The Construction Specifier provides discusses the history of ventilation, describes its principles, and compares it with mechanical ventilation as well as addresses the options available for natural ventilation. To get your copy of "Ensuring Healthy Buildings," visit www.constructionspecifier.com/ebook/rehau-ensuring-healthy-buildings-e-book.