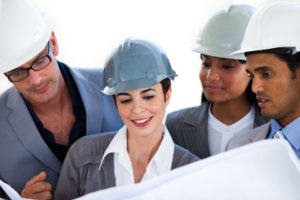 Diversity among new architects is gradually rising, according to the National Council of Architectural Registration Boards' (NCARB's) 2017 NCARB by the Numbers, which will be available in full next month. Gender equity and racial and ethnic diversity have both improved this year, with the former improvement occurring at every career stage for the first time since NCARB began recording demographics. The U.S. Census Bureau estimates women comprise 51 percent of U.S. population, while 38 percent of the population identifies as nonwhite or Hispanic—but what are the percentages like in architecture?
NCARB reports women accounted for 47 percent of new Architectural Experience Program (AXP) participants in 2016, as well as 42 percent of new Architect Registration Examination (ARE) candidates. There has also been a slight increase in the number of women who are practitioners and/or NCARB certificate holders, now standing at 36 percent (a two percent improvement from 2015).
Racial diversity is improving at a slower rate, with respective increases of three percent meaning 42 percent of new AXP participants and 30 percent of new ARE candidates identify as nonwhite. Newly licensed architect and certificate holders remain at the same demographic balance as 2015.
"While several groups remain underrepresented within the profession, these trends point to growing diversity among licensure candidates and, eventually, future architects," said Kristine A. Harding, NCARB, AIA, the group's president. "In response, NCARB will continue to ensure our programs balance inclusivity with the rigor needed to protect the public."