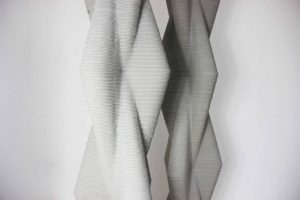 The American Concrete Institute (ACI) has announced the formation of a new committee whose mission is to develop and report information on three-dimensional printing (3D) and additive manufacturing with inorganic cementitious materials.
Chaired by Scott Jones, ACI Committee 564, 3D Printing with Cementitious Materials, aims to develop publications relating to additive manufacturing with cement-based materials. Publications would focus on impact and challenges, and another on construction applications.
The committee will meet at the upcoming Concrete Convention and Exposition in Las Vegas, where there will be a series of seven presentations during a session titled Materials Science Aspects Related to Digital Manufacturing (3D Printing) of Cementitious Materials, prior to the meeting.
"3D printing is a new and exciting frontier in the concrete industry," said Jones. "ACI Committee 564 hopes to bring together all stakeholders to discuss the many challenges and opportunities with this new technology."
Further goals include collaborating with other ACI committees to disseminate additive manufacturing information and determining ways additive manufacturing may be integrated into the concrete community; collaborating with technical organizations to facilitate and coordinate information sharing; fostering discussion on research needs and challenges preventing additive manufacturing from wide adoption in the concrete construction community; and developing guidelines to evaluate materials and technology for additive manufacturing.
The ACI will host a webinar through ACI University on advancing the art of 3D printing in concrete construction on Nov. 13.  Details at ACIUniversity.com.