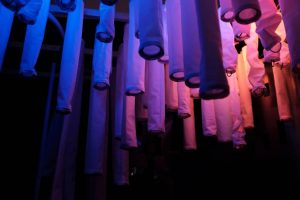 Morphogenesis Lab, a team specialized in interactive architectural systems, developed Wisteria, an emotive intelligent installation that performs concurrent responses to people's emotions based on biological and neurological data.
In this project, visitors can change the color and form of the installation using their brains and emotions. Artificial intelligence, wearable technology, sensory environments, and adaptive architecture were integrated to create an emotional bond between a space and its occupants.
The space is filled with a forest of cylindrical fabric shrouds that suspend from the ceiling. Upon sensing the presence of an occupant, using a programmable material called shape-memory-alloy (SMA), the shrouds begin to fluctuate, expanding and contracting the volume of the space in rhythm and sequence.
Embedded within each shroud is an LED that activates with a breathing rhythm synced with the actuation of the SMA. The shrouds are arranged to create a distinct spatial progression and bring forth a heightened perception of scale and awareness of oneself within the space.
Using affective computing, or 'Emotion AI,' this project created a cyber-physical space that blurs the lines between the physical, digital, and biological spheres. The atmospheric qualities of the space are determined by the occupant's emotions, detected in real-time using smart wearable and affective computing algorithms developed by the team.
This system translates a set of biometrics (e.g. heart rate, skin electricity, blood volume, and temperature) into emotional categories, changing the shape, light, and color of the space accordingly to moderate the emotion.
If stress is detected, space begins to morph; the ceiling rises and expands the interior volume, colors brighten, and natural air is introduced. In the process, an empathetic bond is formed between host and occupant. Wisterias uses real-time emotions from neurophysiological data as the agent of change in the environment.
This installation demonstrates how spaces can be controlled through users' thoughts and feelings, becoming living organisms with lifelike behavior learned from users, and responding to their needs in real-time. Within this project lies a singular objective; to reconcile the relationship between humans and architecture, and to redefine this relationship as one of emotional empathy and active compassion.