New cancer center to focus on community, accessibility
by Carly Midgley | April 26, 2017 3:15 pm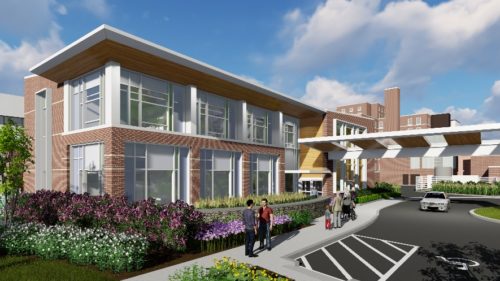 A groundbreaking ceremony was held in fall 2016 for Samaritan Medical Center's[2] Walker Center for Cancer Care, set to be completed in spring of 2018. Located in Watertown, New York, the new center features a variety of innovations intended to make the facility accessible to cancer patients, staff, and visitors.
The Walker Center was designed by The S/L/A/M Collaborative[3] (SLAM)—a firm comprising part of Planetree Visionary Design Network[4]. SLAM has worked on a wide variety of healthcare projects in the past.
The design for this $13 million project is not without its challenges—new regulations from the Centers for Medicare and Medicaid Services (CMS) limit how far it can be set from the hospital, meaning the team must work within a tight urban location. The team's foundation design must overcome both these space constraints and the site's poor soil conditions.
The design for the new center is intended to improve patient and staff accessibility and maximize natural light, creating a sense of community and approachability. This will first be accomplished with the addition of a 'living room' for the community, including a fireplace with seating, an educational space, an Internet café, a boutique, and a conference space. The center also has its own pharmacy and laboratory.
The facility's first and second floors also provide unique benefits. On the first floor, there are more communal areas, with a central core providing access to medical and radiation oncology spaces. Patients can receive assistance in navigating the facility here, and take advantage of its drive-up entrance and separate parking lot. The second floor incorporates a private rooftop garden, which will be viewable during treatment from either of the two wings of this floor's infusion suite. The design process for this garden also posed some unique challenges in balancing an at-grade concept with rooftop planting strategies.
Endnotes:
[Image]: https://www.constructionspecifier.com/wp-content/uploads/2017/04/rendering.jpg
Samaritan Medical Center's: https://samaritanhealth.com/
The S/L/A/M Collaborative: http://www.slamcoll.com/
Planetree Visionary Design Network: http://planetree.org/architecture-and-design/
Source URL: https://www.constructionspecifier.com/new-cancer-center-to-focus-on-community-accessibility/
---