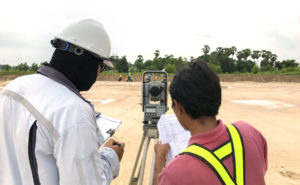 Last month, the inaugural findings of a new Commercial Construction Index were reported, revealing the industry's generally optimistic outlook. Developed by the U.S. Chamber of Commerce, USG Corporation, and Dodge Data & Analytics, the index uses the combined survey results of 2700 commercial contractors discussing backlog levels, new business opportunities, and revenue forecasts to generate a composite score ranging from 0 to 100.
As this is the Index's very first quarter, data on previous quarters—included in the report to offer context—is extrapolated from research done during those quarters.
The resource will serve to identify the industry's areas of strength and pinpoint areas of improvement. Some of these areas include the problem of construction employment—although 66 percent of contractors surveyed said they expect to employ more workers in the next six months, 61 percent reported they were having trouble finding such skilled workers, with particular problems arising in the concrete, interior finishes/millwork, masonry, electrical, and plumbing industries.
Despite this, however, many of the Index's results were optimistic, with 96 percent of contractors stating they expect revenue growth or stability in the coming year. Another 40 percent reported an expected increase, with only three percent expressing concern about a decrease.
"The commercial construction industry is a vital engine for the American economy," said Tom Donohue, president/CEO of the U.S. Chamber of Commerce. "The projected growth uncovered in this research is good news for employers and workers, but there is reason for concern in the lack of qualified talent available in vital specialties. To get our economy growing to its full potential, we must ensure that we have a workforce that is ready to fill the available jobs. Each quarter, this first-of-its-kind research will make us smarter about future challenges and inform solutions for our country's leaders."
Overall, the quarter's score on the index was 76 out of a possible 100—a two-point increase from the first quarter of the year. Similarly, backlog levels increased by four points to 81 (at an average of 9.9 months of backlog, compared to the ideal 12 months), while new business and revenue both increased by two, scoring 77 and 71, respectively.
The Index's full methodology can be viewed here.