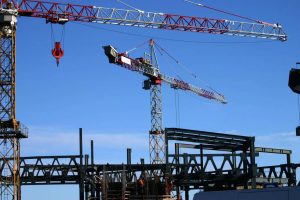 At a seasonally adjusted annual rate of $817.4 billion, new construction starts in July fell 9 percent from the elevated pace reported in June, according to Dodge Data & Analytics. The latest month's decline followed strong gains for total construction starts during the previous two months, with May up 14 percent and June up 11 percent. Nonresidential building dropped 22 percent from June's numbers. June's figures had been lifted by the start of two massive manufacturing plants and two large office buildings. While July did see several large manufacturing and office projects break ground, they were not the same magnitude as what took place in June. The other two major sectors in July held close to their June amounts, with residential building up 2 percent and non-building construction unchanged.
During the first seven months of 2018, total construction starts on an unadjusted basis were $471.4 billion, up 2 percent from the same period a year ago. If the volatile electric utility/gas plant category is excluded, total construction starts during the January-July period of 2018 would be up 5 percent compared to last year.
"The pattern of construction starts on a monthly basis is often affected by the presence or absence of very large projects, and several exceptionally large projects boosted activity in June to an unsustainably high amount," stated Robert A. Murray, chief economist for Dodge Data & Analytics.
These June projects included a $6.5 billion uranium processing plant in Tennessee and a $1.7 billion petrochemical plant in Texas, as well as the $1.8 billion Spiral office tower in New York and a $665 million office tower in Chicago. While July also featured the start of several large projects, such as a $2.4 billion petrochemical plant in Texas and a $750 million data center in Alabama, the lift from very large projects in July was less than what took place in June. Still, the pace of construction starts in July came in 2 percent above the average for the second quarter, which is consistent with the sense overall construction starts continue to trend upward, according to Dodge Data.
The current year has seen the mounting headwinds of higher material prices and higher interest rates, but it is also seen the tailwinds of healthy economic growth, some easing of bank lending standards, and the increased funding for public works programs coming from the federal appropriations legislation passed in March. Amidst the monthly ups-and-downs, the broad trend for construction starts during 2018 remains one of modest expansion, the organization reports.