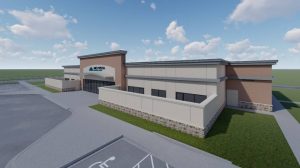 A new addition is breaking ground at a mental health hospital in El Paso, Texas.
Adolfson & Peterson Construction, a national construction management firm and general contractor, is assisting Acadia Healthcare Company Inc. on the expansion of Rio Vista Behavioral Health Hospital.
Located at 1390 Northwestern Drive, the project will provide the facility with a new two-story, 40-bed unit and outdoor recreation space encompassing 3530 m2 (38,000 sf), plus a new one-story outpatient center with additional parking and flatwork encompassing 1300 m2 (14,000 sf).
Rio Vista Behavioral Health Hospital is El Paso's premier mental health hospital, offering care for men, women, and children struggling with mental health and substance abuse concerns. The state-of-the-art facility provides inpatient services tailored to each patient's individual needs on their path to recovery.
Stengel Hill Architects designed the new addition. Construction on the expansion project will begin in January 2022 and is expected to be completed in spring 2023.