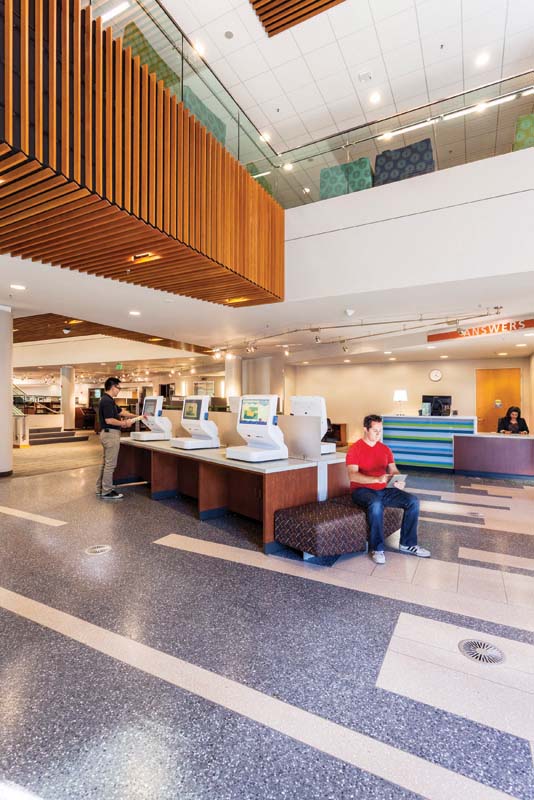 by Kevin J. Gebke
Fabric HVAC ductwork, also known as fabric air dispersion, has always offered specifiers choices when it comes to mechanical system efficiency and efficacy, but various new product innovations over the last eight years have resulted in superior alternatives to traditional metal ducts. The most notable of these material advancements have been developed to solve challenges in data center cooling, underfloor air distribution (UFAD), and the aesthetic shortcomings of deflated wrinkling and sagging during any idle air-handler periods.
Contrary to the common phrase 'fabric duct,' the term refers more to a diffuser system than a ductwork assembly. Due to the intimately included diffusion component of fabric duct, they are always designed into spaces being conditioned with the air that is being dispersed from it. In other words, they are never used as a component to simply convey air from one room to another.
Air diffusion occurs in these systems via discrete orifices, linear vents, and through the fabric porosity. A common similarity among projects in which fabric ducts are employed is the open-ceiling design style. (For more on fabric ductwork, see the article, "Trends in Fabric Air Dispersion for HVAC," by Jeff Klopfenstein from the February 2008 issue of The Construction Specifier. Visit kenilworth.com/publications/cs/de/200802/files/54.html. Also, see the article, "Designing Fabric Duct Ventilation," by Nick Kaufmann, which appeared in the March 2015 issue of Construction Canada. Visit www.constructioncanada.net/designing-fabric-duct-ventilation.)
Overcoming the 'deflated' look
Fabric duct has gained significant market share in the open architectural ceiling market during the last decade due to certain advantages over metal duct. Fabric duct installs faster, can be more energy-efficient, and disperses air more uniformly with multiple vent and outlet choices, while also offering improvements in aesthetics, colors, and streamlined design over spiral round metal duct and registers (the latter of which tend to create drafts).
However, fabric duct has traditionally been associated with a 'visual' challenge—its sagging or deflated appearance during air-handler idle periods. This negative aspect has now been remedied with cylindrical in-duct tensioning systems that can be used for both new construction or fabric duct retrofits. This gives fabric duct an inflated appearance, free of wrinkling, sagging, and roll-out popping sounds regardless of air-handler operation. The elimination of roll-out during air-handler startup significantly increases the life of the system because there is less wear-and-tear from no fabric movement. As a result, some fabric duct manufacturers lengthen their product warranty when these tensioning systems are incorporated.
Premium tensioning models use 360-degree cylindrical supports attached to a central skeletal spine with an adjustment nut that is ratcheted during onsite installation to spread the beginning and end support rings apart and hold the material taut. Diameters range from 305 to 2540 mm (12 to 100 in.)—the larger sizes can accommodate assemblies for huge spaces, such as the recent arena retrofit of Texas Christian University's (TCU's) 55-year-old, 6503-m2 (70,000-sf) Ed and Rae Schollmaier Arena. This arena retrofit presented many HVAC engineering challenges for Baird Hampton & Brown (BHB) Inc., a Fort Worth, Texas-based consulting engineer/architecture firm that spearheaded the HVAC portion of the $72-million renovation.
Unlike the outdated HVAC approach of back-wall air distribution grills it replaced, BHB's fabric duct ring hangs approximately 12 m (40 ft) out from the back wall and disperses air more evenly throughout the entire seating and court areas. The ducts' linear array of laser vents dispersing air at four different air throws at3 o'clock, 4 o'clock, 9 o'clock, and 8 o'clock to match the different target areas for the conditioned air.
Most importantly, the 14-m (47-ft) high circular fabric duct was a significantly safer product to install for the mechanical contractor, because metal is 90 percent heavier and posed tremendous logistical risks at that height.