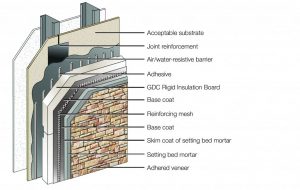 Thin veneer finish application
Most aspects of an EIFS application and components including the WRB, ci board, basecoat, and reinforcing mesh are similar regardless of whether the finish is a thin veneer or a traditional, textured finish coat. Systems with thin veneers may incorporate a heavier reinforcing mesh and thicker basecoat for increased strength and rigidity. Although recommended ci thicknesses may be slightly less when thin veneers are used, the system is typically fastened to the substrate with the same basecoat adhesives used with EIFS and a textured finish. This well-known EIFS attachment method alleviates penetrations and thermal bridging associated with mechanical fasteners, and has decades of proven performance in a wide variety of climates. Tests related to basecoat adhesive performance include water impermeability and absorption, drainage, wind load, and tensile bond strength under wet as well as dry state conditions.
Commonly used thin veneers include natural or manufactured stone, ceramic tile, and brick. Products are selected primarily on appearance along with performance attributes. Veneers are generally limited in terms of weight, size, and thickness with common requirements being maximum weight of 74 kg/m2 (15 psf), 1-m (3-ft) single dimension/1/2 m2 (5 sf) total area and under 75 mm (3 in.) thick. Use and other limitations are typically a function of design considerations, local code requirements, and manufacturers' substantiating data to support the application.
The finishing application consists of the veneer and setting bed mortar installed to the substrate. Setting bed mortars are typically dry, polymer-modified proprietary mix requiring water and mixing prior to application. The mortar mix adheres the veneer to dry, reinforced basecoat and other substrates such as poured or precast concrete, unit masonry, stucco scratch or brown coat, and cement board sheathing. Depending on the type of veneer, setting bed mortars are applied to the back of the veneer as a solid layer application or a notched trowel pattern. In some applications, a wet skim coat of setting bed mortar is applied to the substrate prior to the installation of the veneer. Application temperatures for the setting bed mortar are minimum 4 C (40 F), and the thickness of the setting bed mortar varies depending on the veneer type. Veneers and the wet setting bed mortar are pressed into place on the substrate in a manner that the mortar is free of voids (potential collection points for moisture).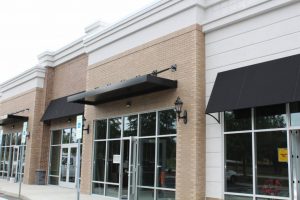 While veneers can be installed as dry stack or open joint systems, most applications use grouting or pointing mortar to fill and provide weather resistance between the individual units. Various types of pointing mortars are available with selection typically a function of the veneer type, desired performance, manufacturer recommendations, or design considerations. The pointing mortar is struck or tooled prior to set to provide the desired appearance.
Whether the finishing option is a traditional, textured type or masonry veneer, the outermost surface maintains its primary function, which is to provide the desired appearance. Masonry veneer provides an additional aesthetic option while maintaining the many benefits of EIFS.
Authors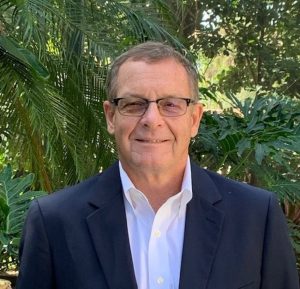 Bill Egan has more than 35 years of construction experience including product and system design, standards development, testing, building code compliance as well as claim investigation, resolution, and litigation. Prior to starting the Bill Egan Group, a provider of consulting services related to building enclosures and products, Egan held key technical roles with construction product companies manufacturing exterior insulation and finish systems (EIFS), stucco, air and water-resistive barriers, and architectural coatings. He can be reached at bill@billegangroup.com.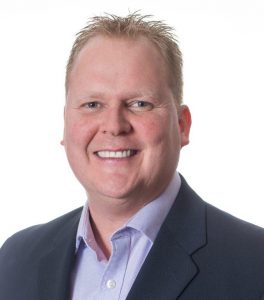 Dean Seabrook is the territory sales manager for BASF Wall Systems in eastern Canada. He has been with the company for more than seven years and has over 25 years of experience in the construction industry. Seabrook is a board member of the EIFS Council of Canada (ECC) and a member of CSC's Toronto Chapter. He can be reached at dean.seabrook@basf.com.