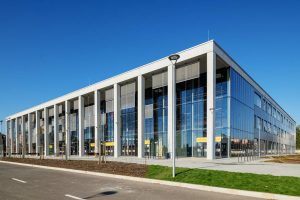 The new Kanizsa Arena, a multi-functional project that combines a sports hall and a community center, has recently been completed in Nagykanizsa, Hungary.
The project began in 2018, lead by Hungarian engineering firm Paulinyi & Partners Zrt.
The company's task was the general planning of an urban multifunctional sports and events hall, suitable to host 3000 spectators.
The building houses the main functions in a uniform building block, while the connecting sports center boasts a more articulated, comb-like volume, with functional units arranged around an inner courtyard. The main entrance of the building is situated along the public park, on the corner of the building looking towards the city.
The two main functional units are planned to be constructed in two phases, Sports Hall being built in the first phase and Sports Center in the second phase. During concerts, cultural events an additional 2000 spectators can be seated in the arena, while during fairs, social events an extra 2428 m2 (26,132 sf) of space can be added by folding up the mobile grandstand.
The design of the facade follows consequently the volume of the building. The inner closed central unit of the Sports Hall appears on the exterior as a homogenous cube, while curtain wall of the transport areas and the lobby space embrace the closed volume is a transparent barrier. The third unit is the row of arcades, with raw, exposed concrete surfaces, opening the inner cube towards the exterior. Service functions next to the inner cube are formed as a smaller, closed volume unit.