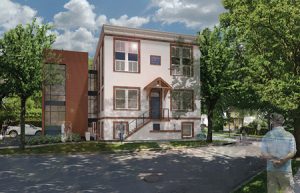 Construction is set to begin on a historic temple and former masonic lodge in Princeton, New Jersey. The site will be adapted into a 10-unit, mixed-income residential building.
The 706-m² (7600-sf) adaptive reuse project, designed for developer group Princeton Maclean LLC, will seek Leadership in Energy and Environmental Design (LEED) Gold certification in the existing buildings category.
"Projects celebrating historic structures and local architectural character while adapting underutilized buildings to new uses represent win-win scenarios for developers and residents," said founder of Joshua Zinder Architecture + Design (JZA+D), Joshua Zinder, AIA, NCARB, LEED AP.  "The masonic lodge at 30 Maclean Street is a beloved local icon. We take pride in preserving it and giving it a second life for residents, neighbors, and future generations to enjoy."
JZA+D will also restore the exterior of the building to maintain and preserve its original character, while adding a new stair tower structure to one side. No change will be made to its height or scale, in keeping with the wishes of Princeton residents who largely prefer that the essential character of the neighborhood, recently designated a historic district, be maintained.
JZA+D design will use energy-efficient mechanical systems and fixtures, in addition to bike parking, new trees and plantings, and an open patio area with seating. The new residence is projected to be complete and available to occupy by fall 2019.