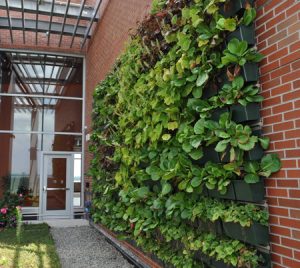 The Hackensack Meridian Health Jersey Shore University Medical Center, Neptune, New Jersey, added two  living walls to the Hope Tower, a new $265-million, 27,871-m2 (300,000-sf) outpatient care facility on the center's east campus. Totaling 48 m2 (514 sf), the two green walls are one of the most sustainable, durable, and easy-to-maintain systems.
"The green walls are essential," said Drew Smithson, COO, Jersey Shore University Medical Center. "They transform highly visible exterior walls, which would be otherwise unremarkable, into vertical gardens that are an integrated part of the whole landscape."
The living walls each measure 274 m (22.8 ft) wide x 136 m (11.3 ft) high. Visitors who enter Hope Tower from the parking garage walk along a corridor with floor-to-ceiling windows and see the ground-level living wall in a garden courtyard that is being established with a green roof. The wall partially covers the exterior wall of a linear accelerator (technology used in precise radiation treatment of cancers). Rather than a blank, gray wall, patients, their families, and visitors enter Hope Tower with a view of greenery.
Plants are getting established on the second green wall, which will be part of the green roof landscape on the outdoor terrace overlooking the Atlantic Ocean on the 10th floor. The green wall will soften the appearance of the exterior red brick wall. With the wall, the project team hopes the terrace will be visually appealing when seen from all directions.
"By extending the landscape up the sides of the structural walls, the green walls complement the landscape design and bring a vertical element to the spaces that make the landscapes more complete," said Chris Cirrotti, vice-president, Dewberry, the exterior civil engineering and landscape architecture firm for the Hope Tower project.