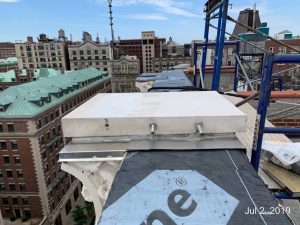 Starting January 1, 2024, New York City building owners must conduct yearly inspections of their parapet walls to address any safety concerns. This requirement stems from November 2021 Local Law 126, which introduced new parking garage inspection regulations and added a section to the NYC Administrative Code, mandating regular parapet observations.
According to a bulletin released by Hoffmann Architects + Engineers, the new parapet observation mandate applies to all buildings in New York City with parapets facing streets, sidewalks, or public right-of-ways, regardless of their height, except for detached single- or two-family homes. Unlike the Facade Inspection Safety Program (FISP), which excludes buildings under six stories and follows a five-year inspection cycle, parapet observations must occur annually.
Unlike FISP and parking garage inspections, building owners do not need to submit parapet observation reports to the Department of Buildings (DOB). Instead, they must maintain these reports for at least six years and provide them to the DOB if requested.
According to the firm's bulletin, if a hazardous condition is identified during an observation, the responsible professional must promptly notify the DOB. Building owners are then required to install public protections, such as sidewalk sheds, fences, or safety netting, which must remain in place until the issue is resolved. Hazardous conditions must be rectified within 90 days.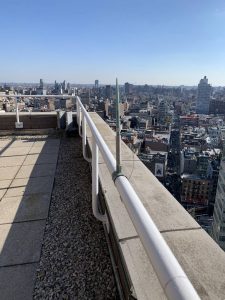 While the parapet rule does not prescribe specific report formats, it should include essential information such as building details, the observing professional's information, observation date, parapet specifics (e.g. material, height, thickness), general conditions, actions taken for unsafe conditions, repairs since the previous report, and dated photos documenting the conditions.
As the implementation date draws near, the firm, which specializes in the rehabilitation of building exteriors, emphasizes that building owners have a short time to prepare. They might consider integrating parapet observations into planned maintenance activities or combining them with mandated FISP inspections in 2024 to optimize costs. Seeking guidance from a design professional can help owners efficiently meet the new annual parapet requirements as part of their existing maintenance and repair programs.
For more on Hoffmann Architects + Engineers' bulletin titled New Rule Mandates Annual Parapet Inspections for New York City Buildings, click here.