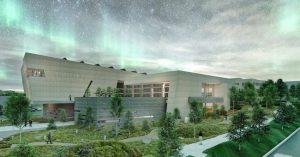 More than 10 years in the making, the $52.7-million expansion and renovation of the Montana Heritage Center, Helena, will be a state-of-the-art repository for the state's historic collections and resources, serving as a place for learning and discovery.
When complete, the project will nearly double the size of the existing building and include 6132 m2 (66,000 sf) of new space, plus exterior and interior renovations to 6224 m2 (66,995 sf) of the existing 1952 Veterans and Pioneers Memorial Building. The Cushing Terrell design melds new with historic, using the space between the two structures to create a dramatic entry that will seamlessly connect the two facilities.
"The vision for who we can be in the future really has also been built into this process, bringing together diverse voices from across our state from east and west, north and south, our tribal nations, men and women, young and old—it will be reflected right here," said Governor Steve Bullock.
"Those voices will shape its architecture and landscaping the way our mountains and our plains and those winding rivers have shaped each and every one of us," Bullock said. "This building design also looks to the future by incorporating sustainable features that will showcase the ingenuity and the values that make Montana such a special place."
Taking inspiration from the state's geology, the new building will appear to emerge from the earth, symbolically referencing the Lewis Overthrust, the geophysical collision of tectonic plates that drove one plate over another and helped define Montana's landscape, Cushing Terrell said in a press release. The landscape design will continue the sense of exploration with features and plantings mimicking (on a micro scale) the journey from the plains and grasslands to the foothills and forests and finally to mountain landscapes. Linking it all together is a river-like trail that will flow from one ecosystem to the next.
The design concept for the Montana Heritage Center is meant to convey the feeling that nature is a driving force behind why people live in the state, Cushing Terrell said. The building's exterior represents the diverse and ever-changing Montana landscape, the backdrop for the lives of its residents. From the inside, the building is a vessel preserving and highlighting stories of Montana's people. The project is pursuing both Leadership in Energy and Environmental Design (LEED) and WELL certifications and is anticipated to be complete in 2024.