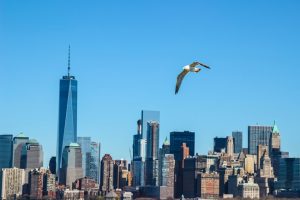 In a 41-3 vote on Tuesday, the New York City Council passed a legislation requiring bird friendly glass in buildings throughout the city.
The law requires 90 percent of the building envelope for the first 23 m (75 ft) of a new building, or any building that is proposed to undergo major alterations, to be constructed of bird-friendly materials meeting a specified design standard intended to decrease bird strikes.
This law also requires the installation of the bird-friendly materials where an exterior wall envelope is adjacent to a green roof system, and on certain installations that create hazards for birds, such as glass awnings, handrails, windbreak panels, acoustic barriers, and parallel glass panels.
"Every year over two billion birds die from window collisions in this country. And since New York City is along the bird migration route, between 90,000 and 230,000 birds, from hawks to hummingbirds, die from flying into buildings in our city," said council member Rafael L. Espinal Jr. "This bill will add to our environmental legacy as we are taking responsibility for our role in the ecosystem that lasted long before towering skyscrapers."
The local law will take effect one year after it becomes law but would not apply to applications for construction document approval filed before the effective date.