New office building addition to Texas business park
by brittney_cutler | December 20, 2021 12:34 pm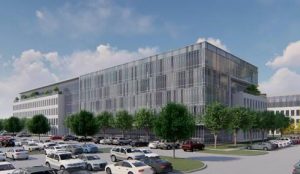 A new office building has broken ground at Billingsley Company's International Business Park in Plano, Texas.
The new five-story, 23,226 m2 (250,000 sf) building will be located within the business park, northwest of President George Bush Turnpike and one block from the Dallas North Tollway. Adolfson and Peterson Construction (AP) will manage construction on the tilt-wall core/shell office building; a three-level, 16,723 m2 (180,000 sf) parking garage with 584 spaces; and various site improvements including landscaping and paving.
The office building site will be adjacent to another four-story, 17,382 m2 (187,100 sf) office building and 836 m2 (9000 sf) amenity center completed by AP in June 2020.
GFF Architects is the planning architect for the project. Trevor Franke and Gini Rounsaville are coordinating the leasing for Billingsley Company.
International Business Park is a 121 ha (300 acre), master-planned campus with 11 buildings and 130,064 m2 (1.4 million sf) of developed office space in Dallas' Platinum Corridor. The park is currently home to more than 100 businesses and more than 4000 employees.
Endnotes:
[Image]: https://www.constructionspecifier.com/wp-content/uploads/2021/12/BC_BusinessPark.jpg
Source URL: https://www.constructionspecifier.com/new-office-building-addition-to-texas-business-park/
---