Ceiling made a difference
Eastern Air Balance of Manheim, Pennsylvania, conducted tests before and after installation of the new panels. According to the company's president, Tim Roaten, the target was to maintain the minimum -0.508 mm w.c. under all conditions. By changing the ceiling panels in the hospital room, the pressure increased to 0.9347 mm w.c. (0.0368 in. w.c.), providing an 84 percent buffer above the design minimum. There were no measurable changes to the supply and exhaust airflow in the space. The only change was the replacement of the existing ceiling tiles.
The increase eliminated nuisance room pressure alarms and the need to replace the exhaust fan. It also brought the hospital room into compliance without any other costly upgrades to the HVAC system. In addition, replacement of the ceiling only took a day, so extended downtime for the room was eliminated. Labor costs involved in caulking ceiling panel edges, an action some facilities undertake to achieve desired pressure, were also eliminated.
"We knew the ceiling would make a difference but didn't know how much," states Roaten, "and it performed much better than we imagined, nearly doubling the pressure differential in the room. We simply weren't expecting that much of an increase."
Kevin McNeil, director of plant operations at the hospital, agrees with Roaten's assessment.
"It was a significant improvement," he says. "We are now able to maintain the required pressure throughout the day, which is especially important today because of the pandemic. If we need another room that requires negative pressure, I would recommend this system."
 Summary
As the nation's economy rebounds and workers return to all types of indoor commercial spaces, ensuring a safe and healthy environment is critical. The confidence of knowing systems and facilities have been implemented or upgraded to potentially reduce the transmission of COVID-19 or other viruses, bacteria, and germs is paramount to increasing a sense of occupant well-being before the return of many to their traditional spaces.
Suspended ceiling technologies can play an important role as stand-alone solutions or in conjunction with other products to reduce the spread of infectious aerosols and potentially help reduce the cost of other system upgrades. Employers should examine their facilities to determine whether suspended ceiling technologies could help prevent the spread of COVID-19 and other airborne pathogens.
Author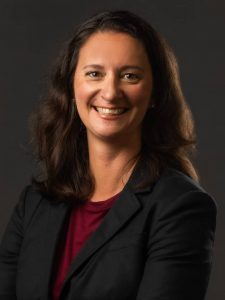 Anne P. Jennings, PE, is senior commercial segment manager of healthy spaces at Armstrong World Industries. She leads commercialization of innovative product solutions to create healthier spaces and improve indoor air quality in offices, schools, and healthcare environments. A graduate of Virginia Polytechnic Institute and State University, and a member
of ASHRAE, Jennings is skilled in specification writing, building automation, and energy management. She can be reached at apjennings@armstrongceilings.com.