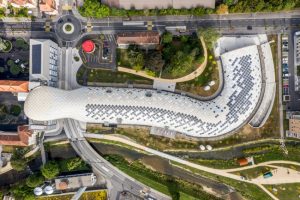 Swiss watchmaker Swatch has inaugurated its new headquarters in Biel, Switzerland, one of the world's largest timber structures, designed by Japanese architect Shigeru Ban.
The shimmering, curved silhouette of the new building extends over a length of 240 m (787 ft) and a width of 35 m (115 ft). At its highest point, the façade measures 27 m (89 ft). The design breaks with the conventions of classic office buildings and blends into its urban environment.
The vaulted façade with an area of over 11,000 m2 (118,403 sf) rises towards the entrance and transitions to the nearby Cité du Temps. Both exterior and interior of the building are interspersed with a variety of leitmotifs, with curved shapes, colors, and transparency.
A timber grid shell construction forms the basic structure of the large-area façade. During the planning phase, 3D technology helped define the exact shape and positioning of the approximately 4600 beams of the timber grid shell. Using a plug-in principle, the individual beams were fitted to each other perfectly. Only timber from Swiss forests, mainly spruce, was used.
While the wooden structure was still being erected, the installation of around 2800 honeycomb timber grid shell elements, which make up most of the façade, began. Each element was tailored from up to 50 individual parts and adapted to its individual function and position. Three basic types of honeycomb can be distinguished: the opaque, the translucent, and the transparent element.
The transparent element is made of glass. A total of four glass panes were used for thermal insulation, between which a white roller blind is embedded. These elements are as well always lightly ventilated to prevent condensation from forming. Tiny white dots on the glass façades serve as sun protection. Also, 124 wooden Swiss crosses on the ceiling improve the acoustics in the offices with their fine perforations.
The energy concept is based on solar technology and groundwater use and allows building functions such as ventilation, cooling, heating, and basic lighting to operate autonomously. The groundwater utilization concept ensures the heating and cooling of the new Swatch building.
Nine underground wells are distributed over the entire area, as well as two former oil tanks which have been converted into water reservoirs. Additionally, 442 individually manufactured, curved solar elements were inserted into the honeycomb structure of the façade. With 1770 m2 (19,052 sf) of installed photovoltaics (PV), around 212.3 MWh of electricity are generated per year.