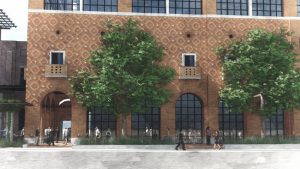 Designs have been revealed for Oxbow, a new building and plaza to be located on the Broadway corridor in San Antonio, Texas. Oxbow will feature office, food and beverage, retail, and public spaces.
San Antonio-based architect Don McDonald will be designing the eight-story building.
The building aims to encourage human connectedness and plaza-making. The offices will be situated in light-filled public spaces with storefronts, café patios, and tree-lined courtyards that blur the line between time to work and time to linger.
The work of regional artists, artisans, and sculptors will animate the spaces and reinforce the riparian valley context. The main entrance on Broadway will feature a 6-m (20-ft) tall ceramic mural by artist Diana Kersey.
Oxbow will include four levels of parking, four levels of office, and ground-floor retail and food/beverage, for a total of 10,228 m2 (110,096 sf) of commercial space. Designed to conserve energy, Oxbow is slated to be Leadership in Energy and Environmental Design (LEED) Platinum-certified with rooftop solar, geothermal heating and cooling, advanced building envelope, and a rainwater and condensate collection system.
The project is scheduled for completion next year.