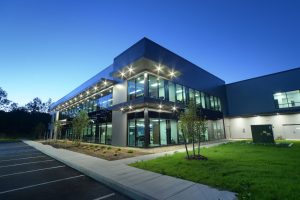 To keep up with the company's growing customer base, SKS Bottle & Packaging required a larger facility. To minimize interruption of services, the 13,006-m2 (140,000-sf) office and warehouse was constructed with insulated metal panels (IMPs).
More than 8361 m2 (90,000 sf) of IMPs were used in two profiles and colors, both filled with a 76-mm (3-in.) urethane. SKS moved from Watervliet, New York, to this new facility in the WJ Grande Industrial Park in Saratoga Springs, New York.
The offices located in the front of the building are clad with the IMPs featuring a 24-gauge galvalume exterior in Charcoal Gray with a Santa Fe finish. The remainders have a 26-gauge galvalume exterior in Tundra with a Light Mesa finish. The interior of all of the IMPs is 26-gauge galvalume in Igloo White with a Light Mesa finish.
The flat roof features an internal gutter system and is 9 m (31 ft) high. The IMPs exceeded the eave lines to create a parapet of varying heights to break up the 'boxy' look of the building, and provide screening of the mechanical systems on the roof. In some spots, the IMPs are 11 m (35 ft) high and in others, they are stepped down to 8 m (32 ft).
The offices and the corners of the facility are highlighted by glass, including the upper corners of the warehouse area, with overhangs above and below the windows to enhance the aesthetics of the building. Beaded soffit panels are installed on the overhangs to fully match the colors. Using the beaded panels also reduces the chance of oil canning.
John A. Paone, RA, project architect at Paone Architecture, has become comfortable taking advantage of the benefits of IMPs.
"It is a one-stop shop," he says. "You only have to visit the wall once during installation. In one pass, the 'skin' you are installing is a finished product that can easily meet the energy codes, which are continually getting stricter. And with the variety of colors, finishes, and textures, it is easy to achieve a great look."