New York multifamily project puts unique spin on classic brick aesthetic
by arslan_ahmed | July 25, 2022 12:57 pm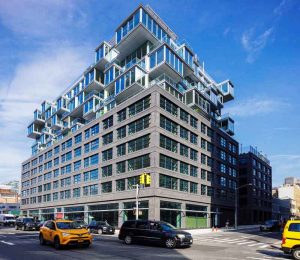 Manhattan's new West Residence Club multifamily project forms distinctive design by combining traditional New York-style brick construction with unique glass-intensive units.
The firm, concrete, responsible for the architecture, interior, and landscape design of the West Residence Club, furnished the base of the building with a robust brick facade to pay homage to the warehouse character of the area. Both the bricks and the patterns originate in a custom design and handmade specifically for The West Residence Club in collaboration with the upcycling company StoneCycling, a Dutch firm committed to the sustainable manufacturing of upcycled bricks.
The brick matrix itself is a proprietary mix of recovered construction debris blended with raw clay quarried in The Netherlands. StoneCycling upcycled more than. 260,000 kg (573,200 lbs) of waste to produce the bricks used in this building. The project required a total of forty different brick shapes and sizes, and each piece came individually hand-brushed with a subtly reflective glass glaze before being fired in a centuries-old factory. The unique glass glaze creates a variety of shades and glossiness during the day, resulting in a different read of the building every time one sees it.
On the top floors, the apartments are all about light, air, and views. All units have one or multiple "glassrooms" that pop out from the facade, framing the views and creating a sense of hovering over the streets, with vistas over 11th Avenue extending for miles. The roofs of these boxes are used as terraces for the dwelling above, ensuring that every home has one or multiple private outdoor terraces. These are mostly one- and two-bedroom units, where sliding walls create an open-plan view, and light oak floors and full glass windows further enhance a cosmopolitan-inspired lifestyle.
Endnotes:
[Image]: https://www.constructionspecifier.com/wp-content/uploads/2022/07/AA_ConcreteManhattan.jpg
Source URL: https://www.constructionspecifier.com/new-york-multifamily-project-puts-unique-spin-on-classic-brick-aesthetic/
---