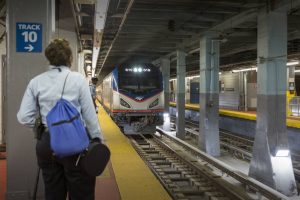 Preliminary design work will soon begin for a $73 million project to renovate and expand New York Penn Station to double its transit capacity.
The station's administrator, Amtrak, has awarded a contract to global engineering, consulting, and design firm Arup to begin formulating options for the new tracks, platforms, and concourses—the first such expansion for the station in a century.
The work is part of an overarching plan to roughly double capacity into Penn Station from the west, relieving a major bottleneck on the Northeast Corridor by allowing more trains to serve the facility and improving reliability for customers. This substantive railroad-focused work is a piece of a larger undertaking to improve the existing station and expand it for the future.
The preliminary design effort will produce railroad concepts to be analyzed as part of the federal environmental review for the Penn Station expansion. The design is expected to take approximately two years.
The concepts developed in the design effort will receive evaluation as part of a comprehensive Environmental Impact Statement pursuant to the National Environmental Policy Act (NEPA), including requirements for public comment and engagement. The Metropolitan Transportation Authority (MTA) will lead the environmental review, which could begin as soon as this year.