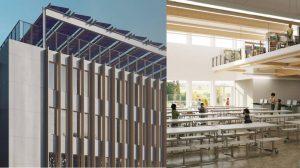 The Evergreen Charter School, a proposed schoolhouse design in Hempstead, New York, is one of the six winners of the Softwood Lumber Board (SLB) and United States Department of Agriculture (USDA) 2022 Mass Timber Competition.
As one of the first mass timber K-12 educational facilities in the Tri-State Area, Evergreen Charter School is a five-story, 7900 m2 (85,000 sf) project for a mission-driven organization based in a low-income Latinx community.
The design by collaborators Martin Hopp Architect PLLC, Consigli, and Odeh Engineers introduces sustainable design goals and implements far-ranging community facilities within a limited cost constraint—serving as an important, replicable proof of concept demonstrating how design excellence, and mass timber, need not be out of reach for even modest budgets.
The school itself is a cross-laminated timber (CLT) building utilizing low-carbon materials and design to maximize its sustainability. A schematic level, early-stage carbon analysis indicated the 1038 m3 (36,666 cf) of CLT to be used in the building will allow it to avoid 359 tons (353 tonnes) of carbon dioxide (CO2) emissions. Additionally, the volume of wood allotted for the project will represent only 0.00057 percent of the annual forest growth in North America.
These sustainable, mass timber features helped the Evergreen Charter School become one of the winners of the design competition, along with projects from all over the country. The competition aimed to expand the use of mass timber in the U.S. by demonstrating its versatility across building types and its ability to reduce the carbon footprint of the built environment. This is the second mass timber competition hosted and funded by the SLB and the USDA Forest Service.
As one of the winners, the charter school has received a portion of $2 million in funding to support project development.