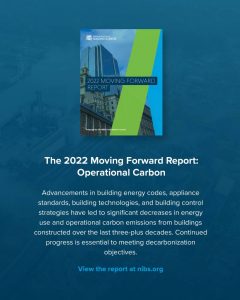 The National Institute of Building Sciences (NIBS) has issued a report with carbon-reducing recommendations made directly to President Joe Biden, policymakers, and industry stakeholders. NIBS has also issued a call for speakers for its conference, Building Innovation 2023 (BI2023).
The report, titled 2022 Moving Forward Report, comes from NIBS Consultative Council, a body which assembles high-level building community representatives to investigate key challenges facing the building industry and make recommendations directly to the executive and legislative branches of government.
The report specifically examines embodied and operational carbon and greenhouse gases (GHG) in existing buildings and new construction, providing realistic and effective carbon-reducing propositions.
Here are the Consultative Council's recommendations:
The federal government should leverage the significant experience of the design and construction industries, prioritizing private sector input in ongoing Council on Environmental Quality (CEQ) coordination of federal actions around decarbonization.
The administration and federal agencies should ensure all proposed actions and mandates are working from a common definition of decarbonization, with commonly shared, publicly available data, to ensure shared progress and tracking.
Federal agencies should provide technical assistance and funding to support the development of a generally accepted and widely available lifecycle approach to evaluating whole-building environmental impacts, one that balances operational GHG emissions and embodied carbon considerations.
Federal, state, and local governments, and the building industry should increase investment in understanding and overcoming the challenges to decarbonization posed by the existing building stock.
The NIBS has begun planning for BI2023 and it is looking for speakers. BI2023 takes place from September 5th to 7th, at the Washington Hilton in Washington, DC.
Building Innovation convenes those who impact the built environment to meet, share lessons learned, and unveil the latest tools and groundbreaking strategies that affect the building community.
This year's conference will focus on key themes, including resilience, technology, workforce development, and building performance and sustainability.
NIBS seeks speakers to cover the following topics:
Building information modeling (BIM)
Digital twins
Affordable housing
Sustainability
Carbon neutral construction
Net-zero building design
Hazard mitigation
Environmental, social, and corporate governance (ESG)
Cyber and data security
Off-site construction
Experts and industry leaders are encouraged to submit an abstract no later than April 28, 2023. For more information about speaker submissions, visit buildinginnovation.org.