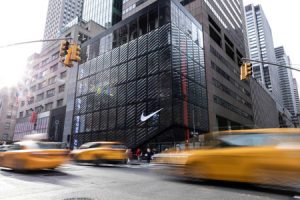 Nike has opened its newest living retail store in New York City, officially named the Nike House of Innovation 000. Located in Manhattan, the building is six stories tall and covers more than 89930-m² (968,000-sf) on the corner of Fifth Avenue and 52nd Street.
"This is one of our most bold and confident moments on our journey of innovation," Heidi O'Neill, the president of Nike's direct to consumer business said. "We are making sure this store has the best, the latest, and the most important innovation."
The building's exterior was designed by the architecture firm CallisonRTKL, and Heintges handled the interiors. A larger DIY concept is applied to the store. The tiles on the arena can be rearranged to host new spaces and configurations. As the selection changes, the store layout can evolve too, making the House of Innovation 000 a very customizable store.
The new store will include the largest collection of Nike shoes for sale in the world. On each floor, various features offer spaces and experiences to customers that are personal and responsive. Throughout the store, consumers can use services that are customizable and seamless.
The store also introduced the Nike Speed Shop, an entire floor that uses local data to stock its shelves, and re-stock them based on what the community wants. Customers are able to browse the Sneaker Bar with the aid of a store athlete or a digital read-out of locals-only data.
With this store, Nike aims to communicate with the city through the digital world, inviting a conversation that is synchronized to the customer.