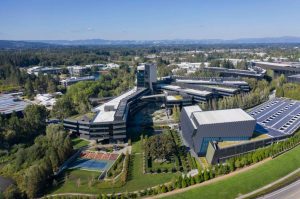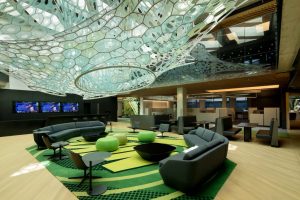 Serena Williams Building at Nike World Headquarters in Beaverton, Oregon, incorporates exterior green spaces to integrate with the landscape, and illuminates interiors with natural light.
Designed by Portland-based Skylab Architecture, the building spreads at more than 92,900 m2 (1,000,000 sf), the largest built structure at the campus. As a show of biophilic design, the Serena Williams Building took parking and loading underground to restrain vehicles from view and incorporated green roof terraces to synchronize with the surrounding wetlands. These terraces capture rainwater and drain it into the neighboring wetlands. Meanwhile, the photovoltaic panels on the roofs conceal from sight the mechanical units. Natural light fills and illuminates the interior from glazing and skylights.
Naturally, the building is LEED (Leadership in Energy and Environmental Design) Platinum certified. Other sustainable design features include energy efficient mechanical systems, photovoltaic panels on the roofs, regional and recycled materials, FSC-certified wood products, and individual building occupant controls for their environments.