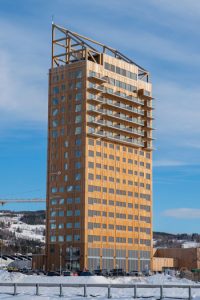 Mjøstårnet, a mixed-use building in Brumunddal, Norway, is the world's tallest timber building. At 85.4 m (280 ft), it is also the third-tallest building in Norway and the country's tallest with mixed functions. The 18-floor building includes a hotel, private homes, and office space.
This news coincides with the amendment of the height criteria of the Council on Tall Buildings and Urban Habitat (CTBUH), the official guidelines upon which tall buildings are measured. The criteria now include timber as a recognized structural material.
According to CTBUH, the update was prompted by the recent uptick of tall timber buildings currently under construction or in planning around the world, and the interest of involved stakeholders and the general public in defining what truly constitutes a timber structural system.
Per the revised criteria for timber structures, "both the main vertical/lateral structural elements and the floor spanning system must be constructed from timber. An 'all-timber' structure may include the use of localized non-timber connections between timber elements. A building of timber construction with a floor system of concrete planks, or concrete slab on top of timber beams, is still considered a 'timber' structure, as the concrete elements are not acting as the primary structure."
The CTBUH Height and Data Committee, chaired by Scott Duncan, a partner with global design firm Skidmore, Owings & Merrill, was created to establish and, when necessary, refine the height criteria upon which tall buildings are defined and measured. The committee meets on a regular basis to discuss the latest developments in the tall building industry, possible additions or revisions to the criteria, and occasionally, specific buildings requiring close evaluation to determine their height and/or categorization in accordance with the established criteria.