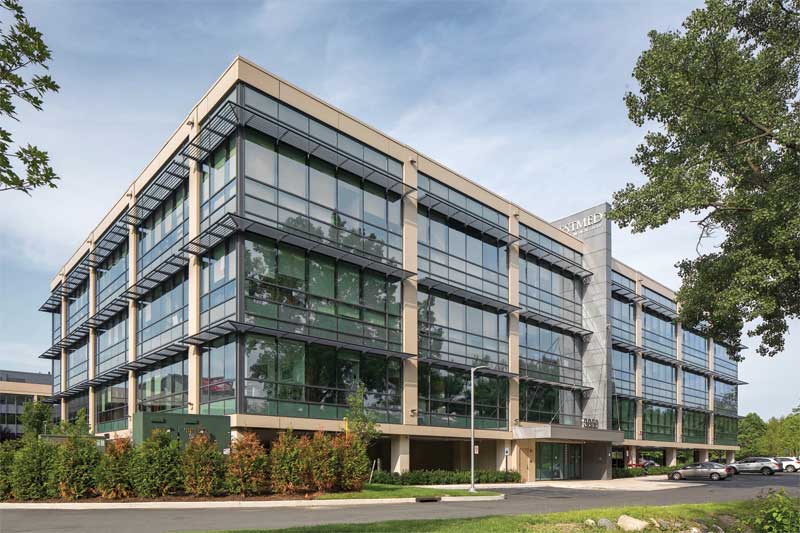 The importance of using full-size mockups
As a blend of transmitted and reflected color, glass color is uniquely influenced by many factors, including light source, the properties of the coated glass, interior and exterior lighting conditions, viewing angle, glass size, and differences in human observers.
Thus, when evaluating glazing color early in the project, it is recommended to use full-size glass mockups with multiple units of the same glazing type, ensuring all variables replicate those of the finished building and surrounding environment. It is best to review the mockups under various viewing conditions (e.g. exterior/interior, straight on/at angles, cloudy/sunny, blinds/no blinds, and with/without shading devices and reflections of adjacent structures/trees) with all project stakeholders.
It is advisable that actual color data be provided on the glazing used for the mockup. The mockup should be retained throughout the project as a reference of what was reviewed and approved for visual appearance. However, due to angular color considerations, a mockup viewed at ground level with a limited number of glazing units might still appear somewhat different than the completed glazing curtain wall 30 stories above the ground. It is up to the glazing specifier whether or not the color data for the mockup samples is officially requested as part of the submittal.
When evaluating glass samples, they should be viewed in natural daylight (not direct sunlight) rather than in an office environment due to the effects of artificial light previously discussed. It is also important to note the foreground and background when viewing samples, since this will influence what the eye perceives. Viewing the samples in the as-installed position (typically vertical), straight on, and at various angles provides a sense of the variation in appearance due to viewing conditions.
To obtain a true visual comparison when viewing multiple samples simultaneously, it is important to ensure the viewing angle, lighting, foreground and background, and other conditions are identical to the greatest degree possible.
Conclusion
Glazing color uniformity is crucial to maintaining the desired look and architectural integrity of contemporary buildings. Although different observers will form their own unique perceptions of glass colors based on a variety of factors, it is critical for building owners, architects, contractors, glazing installers, glazing fabricators, and manufacturers to become familiar with the nuances of vision glazing color by understanding the industry-standard L*a*b* color measurement system. It is equally important to use full-size mockups to properly evaluate glass color and to consider the environmental and viewing conditions, building orientation, and type of glazing being reviewed.
Kevin Ramus has more than 30 years of experience in the glass industry, primarily with automotive and architectural glass. Since 1989, he has been with Vitro Architectural Glass (formerly PPG Flat Glass) in numerous capacities, including manufacturing, sales, marketing, quality, and—most recently—technical support and service. Ramus holds a bachelor's degree in ceramic engineering from Iowa State University. He can be reached via e-mail at kramus@vitro.com.