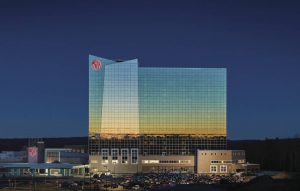 Designs for the Resorts World Catskills (RWC) in Monticello, New York, capture the natural beauty of its surrounding Catskills Mountains and bring together the dynamic qualities of an integrated entertainment campus. Set on a 728-ha (1800-acre) site in the heart of Catskills region, the property is one of the largest casino destination resorts in the state.
Created by JCJ Architecture, a key underpinning to the design approach for the 139,355-m2 (1.5 million-sf) hospitality and gaming property was to provide opportunities for visitors to connect with the seasonal attributes of the landscape. The design team created a seamless and engaging experience integrating texture, color, proportion, transparency, and technology. One example is the design for the large-scale digital display in the empire lounge. The 13-m (42-ft) wide and 4-m (13-ft) tall programmable digital display is devised to replicate local landmarks such as Kaaterskill Falls.
The property features more than 150 gaming tables, 2150 slot machines, and 10 bars and restaurants. It also includes a 2508 m2 (27,000 sf) subdividable event center engineered to have an uninterrupted span of 50 x 55 m (165 x 180 ft). RWC's 18-story, all-suite hotel tower is comprised of 332 rooms including 12 luxury penthouse suites, eight garden suites, and seven two-story villas. The property also includes two indoor pools, a full service spa, and exterior terrace areas.
"JCJ incorporated rich textures and colors throughout the property, including the exterior glass that acts as a canvas to the casino resort's natural surroundings," said Ryan Eller, president of RWC. "The intricacy throughout the design process successfully reflects the detailed level of service that we strive to share with our clients."
RWC includes an additional 11,520 m2 (124,000 sf) entertainment project that comprises the recently launched 101-room lifestyle hotel named the Alder. The Alder is the first component of an expansion that will eventually include more retail and entertainment options, the Kartrite Hotel & Indoor Waterpark, and a Rees Jones-redesigned golf course.
RWC promotes themes of nature and renewal incorporating sustainable features that have put it on track to receive Leadership in Energy and Environmental Design (LEED) certification. The project includes an energy heat recovery system minimizing energy consumption, a dedicated central utility plant with cooling towers, and bio-retention ponds that help to filter and manage stormwater runoff. Access to daylight on the interior was a key sustainability element of RWC's design. Windows were strategically incorporated throughout the property to provide a connection to the outdoors, offer scenic views, and bring natural light into the interior.