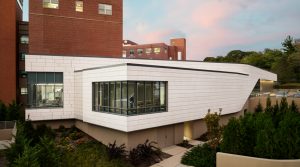 To meet the growing needs of the community, Northwell Health in Huntington, New York, needed a bigger emergency department (ED). The facility utilized a split-flow, 'super track' model for its expansion to filter the patient volume into two treatment areas to more effectively manage patient wait-times and reduce their length of stay.
The design of the new ED presented numerous opportunities and challenges. The new addition needed to fill a ragged edge to the original campus with a building that defines and shapes the street frontage while remaking the eastern precinct of the hospital. It also needed to simplify, expand, and update the existing ED. Additionally, the new building had to bridge between three changes in elevation and fill in a gap between hospital additions of multiple generations and styles.
Northwell's existing ED needed to remain operational during construction, therefore phasing was carefully planned to maximize throughput, minimize disruption to operations, and ensure there was no negative impact on the patient experience.
Designed by architecture firm CannonDesign, a 2601-m2 (28,000-sf) facility was added to filter the patient volume into two treatment areas: acute care and lower-acuity care. Separate, dedicated spaces were provided for three distinct hospital populations, all of which arrived via different circulation paths.
The new ED is strategically placed to connect with the existing hospital on the first-floor level, close to the radiology department and lab services. With its simple profile and form, the new extension acts as foreground to visually anchor the existing hospital. In addition to providing a new entrance, it constitutes a link with the original hospital pavilion, working in tandem to flank the current hospital's main entry drop-off.
Its contrasting terra cotta façade is light in color, matching the hospital's original precast stone. Its glass picks up the green coloration of the main campus's copper metalwork. Large corner windows provide natural light and scenic views from the waiting areas.
The building has two separate covered drop-offs, one for patients and another for emergency vehicles. The building design acts as clear visual guide for visitors, presenting an open and inviting entry while tucking the emergency vehicle entry around the corner and out of site. A new physician's entry is located adjacent to the physician's parking lot under the new ED.
The interior design continues the vocabulary of the entry inside to the public waiting areas.  Within the ED, treatment rooms are designed to be identical and consistent throughout with same-handed layouts and standardized equipment locations, to enable more effective staff functionality, better infection control, and fewer medical errors.