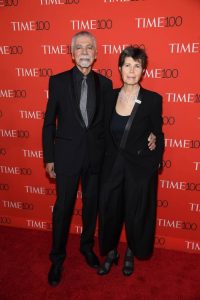 Elizabeth Diller, founding partner of New York City-based interdisciplinary design studio Diller Scofidio + Renfro (DS+R), has been named one of TIME's most influential people of 2018, making her the only architect to land on this year's list. Now in its 15th year, the honor recognizes the activism, innovation, and achievements of 100 significant individuals from around the world.
A Fellow of the American Academy of Arts and Letters, the American Academy of Arts and Sciences, and the Royal Institute of British Architects (RIBA), Diller founded DS+R in 1981 along with her partner, Ricardo Scofidio. She accepted the award from TIME as "a representative of the collective efforts of DS+R." The studio's partners include Diller, Scofidio, Charles Renfro and Benjamin Gilmartin.
Among Diller's formal accomplishments are a Lifetime Achievement Award from the National Academy of Design, the Brunner Prize from the American Academy of Arts and Letters, and an Honorary Doctorate of the Humanities from Occidental College. She was also awarded the MacArthur Foundation Genius Grant from 1999 to 2004—the first given in the field of architecture. Additionally, Diller is a professor at Princeton University School of Architecture.
With work spanning multiple fields, including architecture, urban design, and installation art, DS+R has worked on a multitude of projects in New York City and beyond. Recent architecture and planning initiatives include the redesign of Lincoln Center for the Performing Arts campus and the multi-phased Manhattan public park project, the High Line.
In 2009, Diller and Scofidio jointly made TIME's list of most influential people.
To view this year's list, click here.