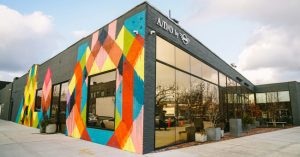 A/D/O by car company MINI, a creative space for designers in Brooklyn, New York, will end its operations and permanently close on May 31 due to the economic uncertainty caused by the COVID-19 pandemic.
"When we launched in 2017, A/D/O was envisioned as a long-term project. Unfortunately, in the midst of global uncertainty resulting from the COVID-19 pandemic, we were unable to commit the necessary investment required to continue on," A/D/O said in a tweet.
Since its opening, A/D/O has mounted 39 installations and exhibitions by leading designers and collaborated with over 300 designers throughout the world.
"A/D/O was a really incredible experiment in a new kind of creative space that operated in some ways like a college campus, but also very much in the professional world—bringing tech startups together with great design, crafts, industry, and conceptual debate at a beautiful space in Greenpoint. It really helped redefine what design could be and could do," said Studio Swine cofounders Alex Groves and Azusa Murakami, whose six-month residency in the space resulted in the Wave. Particle. Duplex. exhibition.
As a creative space for design-minded audiences in New York and internationally, A/D/O hosted over 400 public programs, including workshops, talks, and lectures by many leading global design minds, and contributed to the field of design research and writing through its online journal, as well as research initiatives investigating critical issues of current times in partnership with top design curators.
Over the course of the next month, A/D/O will wind down all physical operations at its Brooklyn space, including the Workspace and the Shop. Rule of Thirds, a restaurant within A/D/O that opened in February, plans to continue operating within the space.
URBAN-X by MINI, another pillar of the brand's innovation practice, will remain open as an accelerator for startups reimagining city life. URBAN-X operations will continue virtually in response to social distancing requirements until a new physical space is secured.
"Although we have made the difficult decision to close our doors, we are confident the idea which has permeated everything we have done—the belief that good design can change the world—will continue to inspire everyone who has been our part of our journey," said Nate Pinsley, A/D/O managing director.