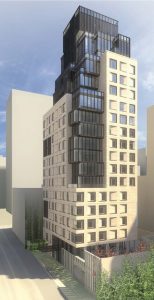 Dahlia, a 20-story luxury residential tower on the Upper West Side of Manhattan, has topped out. The design for Dahlia is the result of a collaboration between CetraRuddy, acting as design architect and interior designer, and RKTB Architects as architect of record.
When complete in spring 2020, it will offer 38 luxury condominium units with two to four bedrooms, including some with private outdoor spaces, and two penthouse units. The open-plan interiors with ceilings up to 3 m (10 ft) high maximize views and daylighting inside the new homes, say the architects.
Dahlia is developed by United Management in conjunction with Certes Partners. It brings long-awaited new construction to the Broadway corridor, according to Shlomi Reuveni, CEO of Reuveni Real Estate.
"Dahlia brings a mix of innovative design ideas and architectural excellence to this market," adds Peter Bafitis, AIA, principal with RKTB and project architect. "With its elevated outdoor park, lounge, and children's playspace, this development will energize the neighborhood as it supports the context and buyer needs."