NYC skyscraper to reach new heights in sustainability
by brittney_cutler | April 19, 2022 9:19 am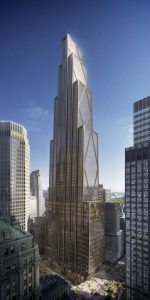 Foster + Partners has designed a new, state-of-the-art skyscraper, slated to be built at 270 Park Avenue in New York City. The 423-m (1388-ft), 60-story building will be one of the city's largest all-electric towers with net-zero operational emissions.
Using an advanced structural system to negotiate the site constraints below and at ground level, the innovative fan-column structure and triangular bracing allow the building to touch the ground lightly across the entire block. By lifting the building about 24 m (80 ft) off the ground, it extends the viewpoint from the Park Avenue entrance through to Madison Avenue.
The project is the first under New York City's innovative Midtown East rezoning plan, which encourages modern office construction and improvements to the business district's public realm and transportation.
Serving as the global headquarters for financial firm JPMorgan Chase, the new building will house up to 14,000 employees, replacing an outdated facility built the late 1950s for around 3500 employees. It is designed to offer more outdoor space on the ground level of Park and Madison Avenues, featuring wider sidewalks and a large public plaza with natural greenspace.
270 Park Avenue will be 100 percent powered by renewable energy sourced from a New York State hydroelectric plant. It will also aim to achieve indoor air quality that exceeding the highest standards in sustainability, health, and wellness.
Endnotes:
[Image]: https://www.constructionspecifier.com/wp-content/uploads/2022/04/BC_FosterPartners.jpg
Source URL: https://www.constructionspecifier.com/nyc-skyscraper-to-reach-new-heights-in-sustainability/
---