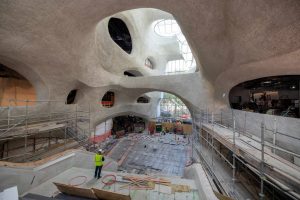 New York's American Museum of Natural History's the Richard Gilder Center for Science, Education, and Innovation utilized shotcrete to evoke the Earth's natural rock formations, in hopes of raising a sense of discovery, connection, and exploration within visitors.
Most of the Gilder Center is formed by spraying structural concrete directly onto rebar without traditional formwork. This technique, known as shotcrete, was invented by Museum naturalist and taxidermy artist Carl Akeley. Once cured, the concrete is finished by hand, demonstrating the fluid quality of the material.
The project broke ground in the year 2019 and is in its final stages of construction, set to open to the public in Feb. 2023. The center's design, presented by the architectural firm Studio Gang, connects new and existing galleries in ways highlighting intellectual links among different scientific disciplines, paying heed to the philosophy: all life is connected. Realized in collaboration with executive architect Davis Brody Bond, the center creates approximately 30 connections among 10 existing buildings, including the newly opened Allison and Roberto Mignone Halls of Gems and Minerals, greatly enhancing visitor circulation, and eliminating dead ends on a campus where pre-pandemic annual attendance grew to 5 million.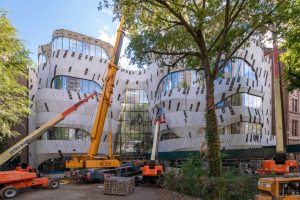 The center's Griffin Atrium opens onto Theodore Roosevelt Park, creating a visitor path to Central Park West. Once inside, the Griffin Atrium, a soaring, canyon-like space with bridges and openings, will connect visitors physically and visually to the multiple levels of new exhibition galleries, education spaces, and collections facilities within, imparting a sense of discovery to the building.
The verticality of the Griffin Atrium also acts as a key sustainability feature, providing natural light and air circulation to the heart of the building's interior. Large skylights introduce daylight deep into the campus, while the height allows for conditioned air to be introduced at ground level, reducing cooling demands.
The Gilder Center's Columbus Avenue façade will be clad in Milford pink granite—the same stone used for the museum's entrance on Central Park West— linking the two sides of the museum's campus. The stone is organized into three-dimensional panels that together create an undulating façade. Their diagonal pattern evokes both geological layering and the richly textured and coursing surface of the stone masonry on the 77th Street side of the Museum.
The core project team also includes Arup, Atelier Ten; Boris Micka Associates; BuroHappold Engineering; Davis Brody Bond; Langan Engineering; Reed Hilderbrand; Renfro Design Group; Tamschick Media+Space; AECOM Tishman; Venable LLP; and Zubatkin Owner Representation.